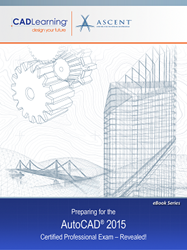 Las Vegas, NV (PRWEB) December 02, 2014
4D Technologies, LLC, makers of the industry-leading CADLearning products for Autodesk software, in collaboration with ASCENT – Center for Technical Knowledge, released complete guides to the Autodesk 2015 Certification Exams to support Autodesk University Attendees and Autodesk users planning to gain industry certification.
Autodesk 2015 Certification e-books are now available to download and include text, images, embedded video, exercise files and assessments so users can follow along in their own software and test their skills and knowledge as they progress.
Certification Preparation aligns directly to the exam objectives for the following Autodesk Certification options:

AutoCAD 2015 Certified Professional
AutoCAD Certified User
Autodesk 3ds Max 2015 Certified Professional
Autodesk 3ds Max Certified User
Autodesk AutoCAD Civil 3D 2015 Certified Professional
Autodesk Inventor 2015 Certified Professional
Autodesk Inventor Certified User
Autodesk Maya 2015 Certified Professional
Autodesk Maya Certified User
Autodesk Revit Architecture 2015 Certified Professional
Autodesk Revit Architecture Certified User
Certification Prep Lounge
Co-branded Certification Preparation e-books from CADLearning and ASCENT will be available in the Autodesk Certification Lounge to assist attendees in preparing for their Autodesk Certified Professional and Certified User exams. The e-books will also be available for download at no charge from December 1 – December 8, 2014. To learn more go to booth #227 at Autodesk University or visit http://www.cadlearning.com/FREE-iBooks.
About CADLearning
CADLearning comprehensive, self-paced professional learning content is designed to maximize performance with Autodesk 2D and 3D design, engineering and entertainment software. Users leverage CADLearning for self-paced learning, as an ongoing resource, and as a help tool. CADLearning is developed by 4D Technologies, LLC. Visit http://www.cadlearning.com to learn more.
About ASCENT
ASCENT- Center for Technical Knowledge develops professional training courseware and technical documentation for engineering applications including those from Autodesk, Dassault Systèmes and PTC. ASCENT is an Authorized Author, Publisher and Developer of Autodesk curriculum and the sole provider of Autodesk Official Training Guides. ASCENT training guides, eBooks and Instructor Tools are available to educational institutions and training centers, individuals and corporations and can be purchased directly from the ASCENT eStore (for volume sales, contact an ASCENT representative). For more information visit the ASCENT website and follow ASCENT on Twitter at @ASCENT_CTK.
###
CADLearning is a registered trademark of 4D Technologies.
Any and all trademarks making reference to or related to Rand Worldwide, IMAGINiT Technologies, ASCENT, or IMAGINiT Clarity, are registered and/or owned by Rand Worldwide, Inc., and/or its subsidiaries, affiliates, and/or other legal holders.
Autodesk is a registered trademark of Autodesk, Inc., and/or its subsidiaries and/or affiliates in the USA and/or other countries. All other brand names, product names, or trademarks belong to their respective holders.