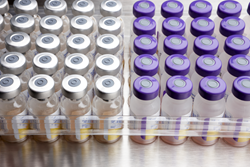 Scottsdale, Arizona (PRWEB) December 02, 2014
Scientific Technologies Corporation (STC) has been awarded a contract with Alberta Health to help improve the management and distribution of vaccine supply, critical during a pandemic, outbreak, or in the event of a product recall. STC's development and implementation of the Vaccine Inventory Management Solution (VIMS) for Alberta Health will be modeled after the vaccine ordering and inventory management systems that STC has implemented in twenty percent of U.S. states.
Why is vaccine management important? An example: During the 2009 H1N1 outbreak in the U.S., when the new vaccine became available, its distribution to healthcare providers, including to newly enlisted pharmacists, was managed by hand. The result was uneven and unmonitored vaccine supply. Some providers received more vaccine than they needed, while others received insufficient quantities, resulting in an inefficient "white market" where the vaccine was traded and/or borrowed. A significant amount of vaccine was wasted or never used.
The 2013 Canadian H1N1 and measles outbreaks posed similar operational vaccine management challenges. A need for new vaccine inventory management systems for the full spectrum of immunizers (public health nurses, physicians, and pharmacists) was identified in order to ensure improved accountability, vaccine monitoring, delivery, and proactive intelligence for Albertans.
To meet the needs of the expanding distribution networks and to address accountability issues, STC will support immunizers in Alberta with their vaccine management needs, while capitalizing on the use of technology including 2D barcoding to better manage vaccine inventory. The goal is to ensure that vaccine is in the right place at the right time.
About STC
STC's goal is to ensure healthy populations through partnership, expertise, and applied use of information technology. In the early 1990s, STC was one of the first adopters of the value of immunization registries and the data that could be used for decision support to augment clinical practice, targeting the reduction and impact of vaccine-preventable disease on children. With the support of physicians, organizations, and policy and vaccine experts, STC's public health and software professionals became the trusted authority that led many of the early efforts and best practices to implement statewide registries. The efforts continue today as over 250 million vaccine encounters are retained in the immunization registries of STC and their state public health partners. Increasing the value of these national health data assets is a primary goal of STC through the next decade. http://www.stchome.com