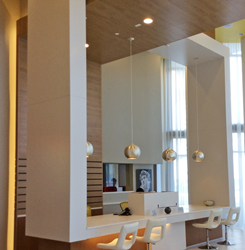 We created it as urban, social and approachable which is perfect for this sophisticated renter.
Winter Park, FL (PRWEB) December 03, 2014
Award-winning interior design firm, Beasley & Henley Interior Design (BHID) has completed the interior design for the luxury apartment complex, AVIVA for Hines in Coral Gables FL.
Beasley & Henley's sleek and modern designs for the project reflect the area's demand for upscale, urban residences in a for-rent environment.
Beasley & Henley, with its long history of award winning multi-family projects, was specifically selected by Hines to create the interior look for this eight story development. During this two-year project, Beasley & Henley created the luxury common areas through detailed space planning, specification of all finish materials, detailed drawings and custom furniture package.
The design team laid out the main Foyer, Leasing and Clubhouse designs to be distinctly modern with layouts and finishes to appeal to the high-end renter. The Foyer features a Beasley & Henley created reception desk to mimic the concept of a high-end boutique hotel. The finishes include stone flooring, stained oak wood, quartz countertops, decorative wall tiles and chic ceiling details. Furnishings are sleek with impactful, modern lighting and distinctive artwork.
The 275 unit project just one block from the Village of Merrick Park, also includes two Beasley & Henley designed model apartments and a Guest Suite with interesting, transitional interiors.
"The location of Aviva allowed us to really have fun with the design we wanted to create for this clientele," explains Design Principal Troy Beasley. "We created it as urban, social and approachable which is perfect for this sophisticated renter. We had a great time putting it all together for Hines."
Beasley & Henley is pleased to continue its alliance with growth-focused Hines. The design team is currently working on 4 projects with the developer.
-------------------------------------------------------------------------------------------------------------------
Beasley & Henley Interior Design is a boutique design firm that believes in creating innovative and memorable interior spaces, uniquely suited to our client's needs and specific goals. With 20+years of experience in award winning multi-family projects, our industry leading team is composed of the best designers and staff, providing our clients with exceptional quality and exceeding their expectations. If you have questions about this project or any other, please reach us in Central Florida at 407-629-7756 or at our Naples office at 239-774-1005. You can email us at Stephanie @BeasleyandHenley.com or visit us on the web at http://www.BeasleyandHenley.com