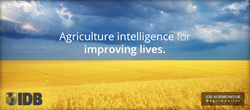 (PRWEB) December 03, 2014
The Inter-American Development Bank (IDB) has launched the first agricultural policy monitoring tool for Latin America and the Caribbean, along with a pioneering new educational guide for agriculture programs and universities.
The IDB Agrimonitor gives policymakers, analysts and academics the ability to track agricultural policies and assess the support of agriculture across most countries in Latin America and the Caribbean in order to make informed decisions that affect food security, climate change, and other agriculture-related issues.
A corresponding curriculum on the IDB Agrimonitor educational support site provides educators with a roadmap for teaching students how to draw from this database to more deeply understand policy actions that can influence the agricultural sector's performance. The lesson plan includes an outline of program goals, criteria for policy assessments, a suggested course schedule and other supplemental materials.
About Inter-American Development Bank
The Inter-American Development Bank (IDB) is the main source of multilateral financing for Latin America and the Caribbean. Founded in 1959, the Bank supports efforts to reduce poverty and inequality, improve quality of life and promote economic development in a sustainable and climate-friendly manner.