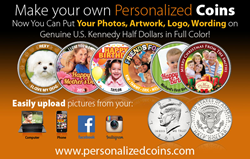 New York, NY (PRWEB) December 03, 2014
Have you ever thought about being featured on a Genuine U.S. Coin? For most, that dream would seem impossible to achieve. Imagine having your image, your loved ones, or even your pet's picture on a U.S. Coin. That honor is now a reality and available for any age group, including the millennial's with all there digital photos.
A New York based company, operated by two brothers who have been in the collectibles field for over 20 years, has created the world's first high speed tech company to take personalization to an entire new level.
PersonalizedCoins.com provides one-of-a-kind personalized genuine coins that convey what people love and relate to the most...Money! Consumers can now include their preferred images, designs or digital photographs on genuine Uncirculated Kennedy Half Dollars or American Eagle 1oz .999 Fine Silver Coin; both of these coins are the largest coins currently minted and are not available in any bank or general circulation.
Darryl Abramowitz creator of the ingenuous idea says "With mass appeal, the combination of personalized images on Genuine U.S. coins brings coin collecting to an entire new level. Plus there has always been that mystique that coins are good luck mementos". Abramowitz's Company has produced over 12 million colorized coins as collectibles. Abramowitz says, "every person who has ordered and received their personalized coin is wowed by what they received...it is a memory that brings happiness. It is one of the very few personalized products that are Unique & Authentic".
The website makes the process easy to design the coins by just uploading photos from a Computer, Phone, Facebook, or Instagram accounts. The easy intuitive interface enables users to zoom in and rotate images, plus add any text or slogan. Three easy and quick steps are all it takes. Their innovative preview technology takes all the guesswork out of the personalization, enabling customers to see what coins will appear like, personalized with every detail, prior to purchasing it.
The technologies are about turning your photos into memories that will last a lifetime. The ideas are endless, but the memories are priceless!
For more information with regard to the services of Personalized Coins, please visit their website at http://www.personalizedcoins.com or email them at info(at)personalizedcoins(dot)com.