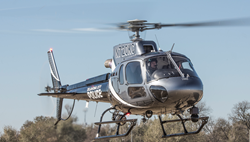 OKLAHOMA CITY (PRWEB) December 01, 2014
The Oklahoma City Police Department's Aviation Unit has put two new Airbus Helicopters AS350B3e AStar helicopters into service as part of a fleet upgrade plan. The new helicopters, delivered by Airbus Helicopters Inc., of Grand Prairie, Texas include technological and equipment upgrades that will enable the department to significantly improve its airborne law enforcement and public safety mission capabilities.
The new helicopters were displayed at an event in Oklahoma City, along with an AS350B3e recently delivered to the Oklahoma Highway Patrol and a recently delivered AS350B2 from the Tulsa Police Department. Oklahoma City ordered the two AS350B3e helicopters in 2013 to replace its current fleet of patrol helicopters and increase the types of missions the aviation unit's aircraft can perform.
"Across the State of Oklahoma, law enforcement agencies have chosen the Airbus Helicopters AStar to upgrade from aging and less capable aircraft," said Ed Van Winkle, Sales Manager for Airborne Law Enforcement for Airbus Helicopters Inc. "The multi-mission capability of the AS350-series helicopters, combined with additional safety features and low operating costs, make them the right choice for law enforcement agencies to upgrade their helicopter fleets."
Oklahoma City police are excited to have the new, more capable helicopters. "The Oklahoma City Police Department has upgraded our ability to provide better public safety coverage for a city that spans 621 square miles with the addition of these helicopters," said Chief of Police William Citty. "The successful process of transitioning to a helicopter that allows for greater functionality, safety and reduced pilot fatigue is a testimony to Airbus Helicopters and their product. And our pilots ... let's say they are not unhappy."
The Oklahoma Highway Patrol put its AS350B3e into service in May and the Tulsa Police Department put its AS350B2 into service in August. In addition to purchasing new helicopters, the Oklahoma law enforcement agencies upgraded to modern avionics and mission equipment to enhance the performance and capabilities of their aviation units. Oklahoma City's new helicopters are well suited to tactical team insertions and are equipped with cargo hooks, allowing them to carry "Bambi Buckets" for firefighting.
The new Oklahoma City AStars are equipped with an avionics and mission equipment suite that enhances crew safety and law enforcement operational capabilities. This suite includes the Garmin G500H electronic flight information system, FLIR Systems 8500 thermal imager, Spectrolab SX-16 searchlight and the Aerocomputers UC-5100 moving map system.
Airbus Helicopters' AS350 series are the most widely purchased helicopters by U.S. law enforcement agencies. More than 220 are in use nationwide with 44 different law enforcement agencies, 75 of them delivered in the last five years. AStars are known for their performance, reliability and multi-mission flexibility. They are powered by Turbomeca Arriel engines that deliver high cruise speed and reliability, along with low direct operating costs.
Other law enforcement agencies that have recently purchased AS350B3e AStars include the California Highway Patrol, Mississippi Department of Public Safety, and the Texas Parks & Wildlife Department.
Airbus Helicopters Inc. leads the U.S. market in sales of new helicopters to federal, state and local law enforcement agencies, with a 56 percent market share over the last decade. The spacious cabin and modern safety features of the AS350 series, including energy-attenuating seats and a Vehicle and Engine Multifunction Display, make the AStar an industry leader. The cost-effective AS350B3e, the latest model in the series, is built and certified by Airbus Helicopters Inc. in Columbus, Miss.
About Airbus Helicopters Inc.
Airbus Helicopters Inc. (AHI) is the U.S. affiliate of Airbus Helicopters, the largest helicopter manufacturer in the world, and a subsidiary of the Airbus Group. Airbus Helicopters Inc. is a manufacturer, markets, sells and supports the broadest range of civil and parapublic helicopters offered in the U.S. The product line represents the industry's most cost-effective, technologically-advanced helicopters serving all markets and missions. The company's headquarters and main facility are in Grand Prairie, Texas with a large manufacturing and production facility in Columbus, Miss.