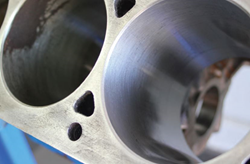 From December 11 to 13, visitors to PRI Show 2014 can learn more about Flex-Hone® tools in Booth #5511.
Los Angeles, CA (USA) (PRWEB) December 11, 2014
Brush Research Manufacturing (BRM), American-owned supplier of a full-line of surface finishing tools, is announcing publication of an article in Performance and Hot Rod Business magazine called Rings True: Foolproof Cylinder Honing Can Improve Piston Ring Performance. The article appears in the Precision Engine section of the magazine's October 2014 edition, and is also available via the BRM website.
As the magazine article explains, piston ring problems can range from power loss to engine damage. Many of today's high-performance engines use harder materials, but their piston rings are softer with lower tension. If the gap between the piston ring and the cylinder wall is too great, exhausted gases and unburned fuel ("blow-by") can enter the crankcase and cause engine problems.
Cylinder Wall Surface Preparation
"The piston ring is sort of the poor stepchild of the high-performance engine," says Keith Jones of Total Seal, a Phoenix-based manufacturer of piston ring sets for street and racing engines. "They get blamed for just about everything." As the article in Performance and Hot Rod Business explains, however, BRM Flex-Hone® seals impart a cylinder wall surface finish that promotes piston ring seating and sealing.
Made with abrasive globules that are permanently laminated to flexible nylon filaments, Flex-Hone® tools are self-centering, self-aligning to the bore, and self-compensating for wear. BRM's flexible cylinder hones also feature a metal stem that a machinist or mechanic can chuck in a handheld power tool such as an electric drill. Manufacturers can also use flexible honing tools in CNC machine centers.
Engine Hones and Piston Ring Performance
BRM's engine hones are available in 11 different abrasive types and 8 grit sizes. The Flex-Hone® Resource Guide explains how to select and use these so-called ball hones, and the company's technical team welcomes questions about abrasive and grit selection. "We provide this type of support all the time," says Michael Miller, BRM's Vice President of Global Sales.
From December 11 to 13, visitors to the Performance Racing Industry tradeshow (PRI Show) in Indianapolis, IN can learn more about Flex-Hone® tools in Booth #5511 at the Indiana Convention Center. To learn more about Flex-Hone® tools at PRI 2014, contact BRM to arrange an appointment.
About Brush Research Manufacturing
Brush Research Manufacturing (BRM), makers of flexible honing tools and a full line of industrial brushes, is located in Los Angeles, California. For over 55 years, BRM has been solving surface finishing challenges with brushing technology. BRM's Flex-Hone® tool is the industry standard against which all other ID surface finishing solutions are compared. Choose NamPower brushes for OD applications.
Media Contact:
Heather Jones
Vice President of Marketing
Brush Research Manufacturing Co. Inc.
4642 Floral Drive
Los Angeles, CA 90022
HJones(at)brushresearch(dot)com
For Immediate Release:
http://www.brushresearch.com/
Ph: (323) 261-2193