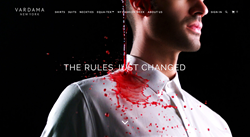 I thought to myself - what if my clothes were self-cleaning?
New York, NY (PRWEB) December 03, 2014
Vardama Inc. is pleased to announce the launch of its first fashion collection for sale on Vardama.com. The collection is infused with spill repellent Equa-Tek™ technology. Vardama aims to fill a void in the marketplace by providing a fashion forward solution to the age old, form vs. function dilemma of spill & water resistant garments. Aimed at today's active and hard working professional, the brand provides finely crafted pieces that work from day to night, office to event, cocktails to party.
Creative Director & Co Founder Jorge Vega Umana, who is well known for his modern twist on minimalistic fashion, translates his vision of classic style to complement this revolutionary technology. "I envision a sleek confident man wearing clean tailored lines, a man who is competitive, who knows what he wants and where he wants to be. For this collection I am inspired by one of my fashion icons Cary Grant and I think if he was alive today, he would be wearing Vardama", said Jorge.
From sleek silhouettes and luxurious materials to the infusion of their proprietary technology 'Equa-Tek™' into the very fabric of the garment, Vardama provides pieces that have the ability to repel liquid stains and defend against everyday elements facing the modern individual's active lifestyle without compromising on breathability, hand feel and natural characteristics.
"I was inspired by nature", said Kaustubh Varma, CEO and Founder of Vardama. "I was on a family trip in India and was stuck in my hotel room due to the rain. Looking out of the window I was admiring the way the leaves on a nearby plant were keeping itself dry and clean. I thought to myself - what if my clothes were self-cleaning? Thus I set out on a conquest to incorporate this into fibers. After many years of trial and error we finally felt confident enough to introduce our products to the market."
Debuting select Men's pieces at the Mercedes Benz New York Fashion Week SS15, the company plans to introduce a women's line in Fall 2015. For more information please contact press(at)vardama.com or visit http://www.vardama.com.