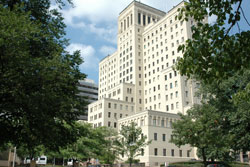 Our strategy is to build a first-in-class, fully-integrated set of high quality, efficient and lower cost home based services," said John Paul, AHN President and CEO.
Pittsburgh, PA (PRWEB) December 02, 2014
Allegheny Health Network(AHN) has acquired majority ownership of Klingensmith Healthcare(KHC), one of western Pennsylvania's leading suppliers of respiratory and home medical equipment (HME) and related services, officials announced today. Financial terms of the transaction were not disclosed.
According to John Paul, President and Chief Executive Officer of AHN, the acquisition of Klingensmith represents another significant step forward in efforts to establish more comprehensive community and home based services to complement AHN's broad spectrum of inpatient and outpatient programs.
In early November, AHN also announced a joint venture with Celtic Healthcare to create the region's second largest provider of home health and hospice services.
"Our strategy is to build a first-in-class, fully-integrated set of high quality, efficient and lower cost home based services that allow us to provide patients with the full continuum of care they may need outside the four walls of the hospital. With Celtic Healthcare and now Klingensmith, we have embraced innovative and highly successful leaders in their respective industries to make that vision a reality," said Mr. Paul.
AHN has assumed a controlling interest in Klingensmith, with a minority ownership stake taken by the Johns Hopkins Home Care Group, which brings to the partnership more than 30 years of experience in providing home medical equipment and complex clinical respiratory services to patients.
Headquartered in Ford City PA, Klingensmith is one of the largest independent providers of home medical supplies and services in the tri-state region of Pennsylvania, West Virginia and Ohio, encompassing respiratory, recovery and rehab product lines with a strong reputation for same day delivery, innovative technology, and patient-centered programs.
The company has served the respiratory and home medical equipment market for more than three decades and currently touches greater than 9,000 patients annually in 18 western PA counties, six WV counties and four OH counties. It also has three retail store fronts across the region and employs 195 people.
"Similar to our recently announced home health and hospice partner, Celtic Healthcare, Klingensmith has invested heavily in developing outstanding clinical platforms and advanced technological capabilities over the past several years," said Brian Holzer, MD, Senior Vice President of Diversified Services for AHN. "By merging these critical, existing capabilities with the considerable home and community-based care needs of AHN's growing patient population, we have the opportunity to establish a model program for out-of-hospital chronic disease management that greatly improves the patient experience and promotes clinical interventions at more effective and appropriate sites of care."
Continuing, Dr. Holzer said "Johns Hopkins is a world renowned institution that brings a long track record of success and innovation in clinical respiratory, home medical equipment and other home based services to this exciting endeavor. We look forward to collaborating with the Johns Hopkins Home Care Group to build a program in western PA and beyond that sets new standards for quality, accessibility and service excellence."
Johns Hopkins Home Care Group officials said the acquisition of Klingensmith is an opportunity to further expand the reach of their respiratory and home medical equipment management expertise in operations, software and product line services, while also leveraging proven Klingensmith protocols, such as the DASH program, to improve readmission rates and continuity of care for patients in the Baltimore and Maryland regions.
"We are enthusiastic about collaboration between AHN and our organization with the acquisition of Klingensmith," said Daniel Smith, president and chief executive officer of Johns Hopkins Home Care Group. "Together, we can focus on innovation, program development and the use of cost-effective home based technology. This affords both our health systems the opportunity to support high quality patient and family centered care in the community."
About Allegheny Health Network:
Allegheny Health Network is an integrated healthcare delivery system serving the Western Pennsylvania region. The Network is comprised of eight hospitals, including two academic medical centers; more than 200 outpatient facilities and offices, a research institute; Health + Wellness Pavilions; and a healthcare group purchasing organization. The Network employs approximately 17,000 people, including more than 2,100 physicians on its medical staff and annually performs more than 85,000 surgical procedures, discharges approximately 90,000 patients and logs more than 1.2 million outpatient visits. The Network also serves as a clinical campus for both Temple University School of Medicine and Drexel University College of Medicine.
About Johns Hopkins Home Care Group:
To learn more about Johns Hopkins Home Care Group go to http://www.hopkinsmedicine.org/homecare or call 410-288-8000.