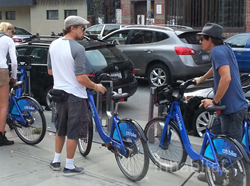 "We couldn't believe it" said Jonnie Sax, the founder of JammyPack. "I have no idea how he got it, we were just so excited to see an icon like him wearing it"
Los Angeles, California (PRWEB) December 03, 2014
"We couldn't believe it" said Jonnie Sax, the founder of JammyPack. "I have no idea how DiCaprio got it, we were just so excited to see an icon like him wearing it"
Just sharing the article from Inhabitat (by Yuka Yoneda, 10/08) among their friends and fans on Facebook and Twitter resulted in the "BlackedOut" version from the photo selling out in 4 days, and overall sales spiking at 400% month over month.
Founded in 2009, with the objective of bringing people "music on the move," JammyPack has released over 100 products, with an emphasis on the action sports community.
The burgeoning lifestyle brand now has a dedicated action sports division and partnerships with multiple professional snowboarders and board maker Technine.
Starting this holiday season, JammyPack will launch it's first flagship showroom with a pop-up in Los Angeles' Historic Core. Located at 600 South Spring Street on the most populated corner in all of Los Angeles County. The new location will give wholesalers and consumers alike a chance to see, feel and hear the new line.
In addition, through January, visitors to the showroom will be able to get 50% off most products, and online shoppers using the code "LEO" will be able get the same discount.