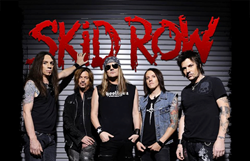 Petaluma, CA (PRWEB) December 04, 2014
In 1996 Skid Row had top ten singles, gold and multi-platinum album sales, and a No. 1 slot on the Billboard album chart. Skid Row returned to the big stage, opening for Kiss in 2000!
New plans to conquer the world came together in an Atlanta recording studio, but in a different time and a different industry, they decided to record a series of EP's. The guerrilla burst of recording a concise EP fostered a focused intensity that was liberating. The resulting sound is rambunctious exuberance. They got older, but Skid Row never really grew up. United World Rebellion is still the youth gone wild, their musical spark still burning gasoline.
Skid Row's second EP "Rise of the Damnation Army - United World Rebellion: Chapter 2" was released on August 6th, hot on the heels of their triumphant appearance at this year's Download Festival. Their current 18-month long United World Rebellion Tour has blasted at full volume in over 30 countries and leaves no doubt that Skid Row is back on the battlefield in full force.
Kaces is proud to support Skid Row, and welcome them to their growing family of artists.
For more information, please visit us at http://www.kaces.com
Kaces is a leading global supplier of guitar, fretted instrument, and music accessories for musicians of all genres. All Kaces products are designed based on the latest technology and materials, and the brand is dedicated to providing high quality, affordable accessories, for beginners to professional musicians.
The Kaces product line includes over 200 models for band, orchestra, percussion, guitar, keyboard, DJ and pro-audio applications.