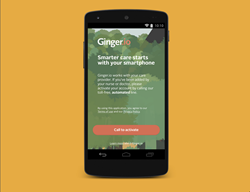 This data will allow us to better assess how our clients are doing between appointments and catch any potential problems earlier, leading to better clinical outcomes.
San Francisco, Calif. (PRWEB) December 02, 2014
Ginger.io, the leading digital mental health solution, today announced the launch of Utah SmartCare — a next-generation care management project designed to improve patient engagement and health outcomes in low-income Utah populations. The project focuses on integrating mental and physical health delivery through an innovative technology platform, with the goal of improving the quality and cost of healthcare for this historically underserved population.
Utah SmartCare is supporting a partnership among three local mental health authorities, two community health clinics and the patients they serve. These participating organizations are committed to improving the health of the most vulnerable members of their communities.
"The project offers an innovative approach to improving communication not only between patients and providers, but also between mental and physical healthcare teams," said Alan Pruhs, Executive Director at the Association for Utah Community Health (AUCH), the agency leading the collaborative project. "Innovative approaches like this are crucial to the successful integration of physical and mental health."
"We're already receiving great feedback from clients enrolled in the program," said Brandon Hatch, Executive Director of Davis Behavioral Health, one of the local mental health authorities participating in the Utah SmartCare initiative. "This data will allow us to better assess how our clients are doing between appointments and catch any potential problems earlier, leading to better clinical outcomes." Davis Behavioral Health delivers mental health services for 6,000 people across Davis County. Of these patients, nearly 80% live at or below the poverty line.
All five sites are using the Ginger.io technology platform to integrate primary care with mental health services, but how they achieve that goal varies from site to site. One site, Wasatch Mental Health, is using the technology in a crisis center capacity to better manage patients in the acute phase of their behavioral health condition. Another site, Health Connections at Weber Human Services, is integrating the Ginger.io technology into existing workflows to support and improve the outreach of current case managers on staff.
"This new technology allows us to touch base with clients as they experience increased stress, rather than after the fact," said Juergen Korbanka, Executive Director of Wasatch Mental Health. "This will enable us to respond more quickly and avoid more complex interventions."
Utah SmartCare is a first-of-its-kind collaboration between a private business venture, public service organizations and a nonprofit foundation.
Funded by the Cambia Health Foundation, Utah SmartCare focuses on improving care for high-cost patients suffering from serious mental illness (SMI), generalized anxiety and generalized depression, in conjunction with a serious physical health condition such as diabetes or heart disease. The initiative will focus on serving low-income patients living at or below 200% of Federal Poverty Guidelines who are Medicaid beneficiaries or are uninsured.
"This is the sort of imaginative and collaborative community-focused healthcare improvement model we try to support in whatever way we can," said Jennifer Danielson, Cambia Health Foundation board member. "We believe this innovative and well-integrated approach will improve the quality of care delivered to residents and reduce costs in the process."
In the past, integrating primary care with behavioral health delivery has proven an effective yet elusive method of treating patients with mental health conditions, according to Dr. Anmol Madan, Co-Founder and CEO of Ginger.io.
"Up until this point, we haven't had the technology to effectively measure how patients are feeling outside of a care setting. Now that this remote data is more readily available, we are integrating it with the existing healthcare system and using it to deliver the sort of personalized outreach that improves care for patients and drives down costs, both of which substantially benefit the entire system."
About AUCH
The Association for Utah Community Health (AUCH), formed in 1985, is the voice of Utah's Health Centers and their patients. As the Primary Care Association in Utah AUCH cultivates access to primary healthcare for everyone throughout our diverse state. The organization represents over 40 not-for-profit community clinics who provide quality healthcare services including medical, dental, and behavioral health, particularly for low-to-moderate income, uninsured or underinsured Utahns who might otherwise not have access to healthcare. Association members include federal Health Center grantees and other providers who strive to meet the needs of all Utahns in rural and urban areas. More information about AUCH is available at http://www.AUCH.org
About Cambia Health
Cambia Health Foundation is the corporate foundation of Cambia Health Solutions, a total health solutions company dedicated to transforming the way people experience the health care system. A 501(c)(3) grant-making organization, the Foundation partners with organizations to create a more person-focused and economically sustainable health care system. Through its recently launched children's health program, the Foundation seeks to partner with community and school-based organizations that are pursuing holistic, integrated approaches to addressing children's health issues. For more information, visit http://cambiahealthfoundation.org/ or http://www.twitter.com/cambiahealthfdn.
About Ginger.io
Ginger.io uses patient smartphones to improve behavioral health in primary and specialty care. Through passive data and deep analytics, this mobile application identifies patterns in patients' behavior and mental state that may impact their health and well-being. Providers can use the Ginger.io platform to reach out when patients need support and deliver the right care at the right time—building a stronger connection between patients and providers. Ginger.io is currently working with leading U.S. healthcare institutions including Kaiser Permanente, UCSF, Novant Health and Centerstone/CRI. A spinoff from the MIT Media Lab, Ginger.io was recently named one of The World's Top 10 Most Innovative Companies in Healthcare by Fast Company. Learn more about Ginger.io at http://www.ginger.io