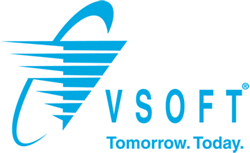 Atlanta, GA (PRWEB) December 02, 2014
VSoft Corporation, a global provider of information and technology solutions for financial institutions, announced they will be presenting an upcoming webinar on Wednesday, December 17, 2014. Christian Tomooka - Senior Solutions Engineer, VSoft Corporation, will present the webinar "RDC Platform Expansion – How a Unified RDC Platform Drives Efficiencies". Financial Institutions that are evaluating their remote deposit capture strategy for its retail and commercial clients will benefit from this session. The webinar will highlight how ease of use, solution integration and risk mitigation create a simple and effective RDC platform. To register, go to https://www4.gotomeeting.com/register/246276175.
About VSoft Corporation
VSoft Corporation offers platform-based services for the BFSI industry. Our core and payment processing services reduce cost and maximize efficiency while providing seamless, real-time, high-volume and high-performance transactions across multiple channels. The VSoft platform can be delivered in-house, or as an outsourced ASP or SaaS model to best meet the needs of individual financial institutions.
VSoft's services have been trusted by more than 2,600 financial institutions worldwide. For more information call 770-225-7692 or visit http://www.vsoftcorp.com.