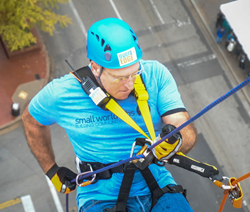 "When we evaluated strategic options for affecting immediate and widespread change in this country, it became clear that a private online presence would be required"
Austin, Texas (PRWEB) December 02, 2014
Small World Labs, provider of the leading online community platform for nonprofits and member-based associations, and Shatterproof, a new national organization, today launched the Shatterproof Support Community. The Shatterproof Support Community brings together individuals whose lives have been affected by substance abuse. The support network will empower users with access to fellow supporters and resources aimed at helping families cope with addiction in a stigma-free environment.
Central to achieving Shatterproof's mission of protecting children from addiction to alcohol or other drugs and ending the suffering of those affected by the disease, was the need to create a private, online hub for the people it serves. "When we evaluated strategic options for affecting immediate and widespread change in this country, it became clear that a private online presence would be required" said Nancy Palo, National Vice President of Community Empowerment of Shatterproof. "Through past experience, I knew that Small World Labs was the leader in nonprofit online communities and would be an excellent partner in helping us make our web presence invaluable for our users."
The Shatterproof online community provides the following resources to individuals or families that have been affected by alcohol and other drug addictions:

Discussion forums where users can share stories, ask questions and seek support
Member directory for easy engagement and building connections between users
Collaboration groups for deeper engagement among different segments of users
Blogs from individuals whose lives have been affected by the disease and who can help others through their experiences
Research articles to educate community members on the effectiveness of different treatment methods
A robust network of partner organizations that are lending their support for the cause
Small World Labs CEO, Michael Wilson, added "Shatterproof came to Small World Labs with a vision for making online community a core aspect of their organization. Not only is Shatterproof filling the gap between those affected by drug abuse and the support services available to them, but by making their community an integral part of their strategy, Shatterproof will be closer to the heartbeat of its mission, and more agile in addressing the needs of those it serves."
After the initial launch, the Shatterproof Support Community will also be connected to its peer to peer fundraising system via Small World Labs' out of the box integration with TeamRaiser. This integration will allow Shatterproof to crowdsource best practices, new ideas, donations, and new team members from the community. "We're determined to make an immediate impact for those in need and we're excited to launch a powerful resource that will get us closer to our goal," said Palo.
About Small World Labs
Small World Labs helps organizations, such as American Heart Association, American Cancer Society, United Nations Foundation, National Wildlife Federation, and the Institute of Engineering & Technology better connect, engage, collaborate with, and mobilize their supporters and members. By strengthening the connection between supporters and the organization, Small World Labs Community has helped nonprofits & associations increase fundraising by 352%, supporter retention by 49%, membership upgrades by 73%, volunteer hours by 228%, and time on website by up to 900%. For more information, visit http://www.smallworldlabs.com.
Contact:
Jeremy Demers
Small World Labs
(512) 474-6400 x22
jdemers(at)smallworldlabs(dot)com