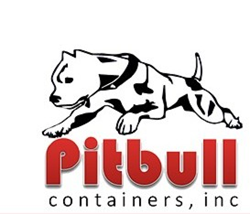 Fort Lauderdale, FL (PRWEB) December 02, 2014
Cardiff International, Inc. (Symbol: CDIF) today announced it has acquired the Atlanta based brokerage company Pitbull Containers, Inc. who specialize in intermodal shipping containers. As part of the acquisition, Pitbull Container's co-founders Jeff Packer and William Coit, III will join Cardiff and continue to build Pitbull. Cardiff agreed to purchase them based on current value with a re-evaluation period of 12 months.
"We are thrilled to have Jeff and William as our partners moving forward. We believe Pitbull is positioned to take advantage of the current economy and provide a solution for the necessary shipping, housing, office and storage shortage worldwide," quoted Cardiff's CEO Kathy Roberton.
William Coit, III stated, "We developed a proprietary CRM (Customer Relationship Management) application that aggregates and locates assets and containers around the world by providing a single source to locate containers for shipping and storage. This application solves a huge problem in this fast growing market segment. Our goal is to create a family of companies around the Pitbull brand, one that connects customers with products and services leveraging our cloud based technology."
"I embraced Cardiff's collaborative governance the minute I heard of it," said Jeff Packer. "The idea of working together as a team was inspiring and provides Pitbull the unmatched ability to raise money to expand worldwide. Cardiff's deep commitment to its shareholders and acquisitions in the public arena is something special."
About CDIF: CDIF is newly emerging as a holding company who adopted a new business model known as "Collaborative Governance™" a new form of governance enabling businesses to take advantage of the power of a public Company. Targeting the acquisition of undervalued, niche companies with high growth potential, income-producing commercial real estate properties and high return investments, all designed to pay a dividend to our shareholders.
FORWARD LOOKING STATEMENT This news release contains forward looking statements within the meaning of the Securities Litigation Reform Act. The statements reflect the Company's current views with respect to future events that involve risks and uncertainties. These risks include the failure to meet schedule or performance requirements of the Company's contracts, the Company's liquidity position, the Company's ability to obtain new contracts, the emergence of competitors with greater financial resources, and the impact of competitive pricing. In the light of these uncertainties the forward-looking events referred to in this release might not occur.
FOR MORE INFORMATION, CONTACT:
Investor Relations
investorrelaitions(at)cardiffusa(dot)com
Cardiff International, Inc.
818-783-2100 ext. 705