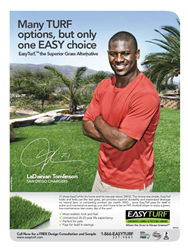 "Almost seven years later and my EasyTurf still looks great," Tomlinson said. "It also helped us save thousands of gallons of water."
SAN DIEGO (PRWEB) December 03, 2014
EasyTurf is proud to announce the return of NFL MVP LaDainian Tomlinson to its respected list of spokespeople.
Tomlinson first settled on EasyTurf almost seven years ago when it was installed at his family residence and Southern California Pet Resort, Snug. Tomlinson partnered with EasyTurf after researching the synthetic grass options and ultimately chose EasyTurf because of its commitment to environmental responsibility and pet-friendly drainage. With thousands of dogs running around Snug Pet resort, durability was also a key factor in his decision.
As a Southern California business owner and Texas resident, Tomlinson also understands the importance of a water-friendly landscape. He found EasyTurf to be the best choice and has decided to install even more at Snug Pet Resort and at his personal residence in Texas.
"Almost seven years later and my EasyTurf still looks great," Tomlinson said. "It also helped us save thousands of gallons of water."
The former Charger is well invested in the San Diego community. His annual LT5K Race held at San Diego's Liberty Station raises money for his Touching Lives Foundation. Tomlinson's foundation engages in a number of programs supporting educational, social and cultural awareness in the local community and promoting positive self-esteem in children to enhance the lives of families.
EasyTurf leads the synthetic grass industry in durability, drainage technology and realistic look and feel. 22 of 32 NFL teams play on the same synthetic turf EasyTurf has installed in more than 15,000 homes in Southern California alone.
"EasyTurf is my MVP for a money-saving, water-conscious landscape," said Tomlinson.
Tomlinson joins other high profile advocates of EasyTurf's lines of environmentally-friendly products, world renowned dog whisperer, Cesar Millan and Seven-time Supercross Champion, LOORRS Pro2 Driver Jeremy McGrath.
About EasyTurf:
EasyTurf, Inc. became the national brand of FieldTurf landscape, pets, playground, and golf artificial grass products. The partnership allowed FieldTurf to rapidly expand its existing dealer network and accelerate sales and distribution of FieldTurf landscape products on a national level to homeowners, municipalities, schools, businesses and the military.
EasyTurf is North America's preeminent source for landscaping, offering state-of-the-art synthetic lawns for realistic, beautiful, easy-care residential and commercial landscapes, providing specialty synthetic grasses engineered specifically for military surfaces, commercial and residential athletic and playground surfaces, putting greens, and for pet-friendly landscapes. EasyTurf product advancements in the synthetic grass industry have led to massive growth for the Vista, California-based leader in life-like artificial lawns that stay beautiful year round.
FieldTurf has long been the world leader in synthetic sports field cover; now EasyTurf joins them as the industry leader in residential and commercial synthetic turf markets.
Contact:
Jackie Luper, VP of Marketing
Phone: (760) 745-7026
Fax: (760) 888-2011