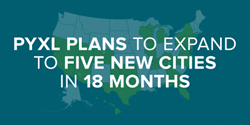 We are excited to expand our company because there is a unique need in the marketplace for exactly what we do in the digital space.
KNOXVILLE, Tenn. (PRWEB) December 02, 2014
Pyxl, a full-service digital marketing firm honored on the 2014 Inc. 5000 list of fastest growing companies, is expanding to five additional cities in the next 18 months. Pyxl is currently located in Scottsdale, Ariz., Boulder, Colo. and Knoxville, Tenn. and wants to broaden its national presence with additional inbound marketing companies, offices and employees.
Pyxl is experienced in buying existing digital marketing companies as well as recruiting entrepreneurs to build new offices across the country. They also hire talented designers, developers and inbound marketers who are passionate thought leaders and want to be part of Pyxl.
"We are excited to expand our company because there is a significant need in the marketplace for inbound marketing services across the United States," said Josh Phillips, president of Pyxl. "We pride ourselves on focusing on creating the best in customer experience through attentive service and results-driven digital marketing services. The addition of offices and employees around the country will help us further our mission of delivering those services to small and medium sized business and large enterprise customers."
Pyxl is looking for those who want to join in this overwhelming growth:

Business owners, CEOs and principals of inbound marketing companies
Entrepreneurs wanting to start an inbound marketing company & lead and build a new office
Potential new employees with drive and creativity, including designers, developers, inbound marketers and account managers
Pyxl is passionate about the web and helping clients establish or grow their digital presence. They build digital experiences – from enterprise-class websites, mobile and web applications, to integrated and engaging communications programs. Pyxl helps customers monetize their investments in websites, web applications and other web presences by utilizing strategic, custom inbound marketing plans tailored to each customer's needs.
Pyxl was founded as a result of an acquisition of a five-person marketing firm in Knoxville, TN in April 2008. "Today, we have more than 40 employees in three cities who work with a diverse group of clients including young start-ups and established multi-billion dollar businesses covering a broad range of industries including technology, higher education, government and healthcare," Phillips said. "It's a great platform for other like-minded marketers to come join us and grow with our brand. An entrepreneurial environment with the support of a proven business model to foster growth."
Pyxl first landed on the Inc. 5000 list of America's fastest growing private companies in 2013 following a 299 percent growth rate throughout the past three years. With a strong client focus and an integrated, results-driven strategy, Pyxl serves national clients in the healthcare, education, technology and retail industries, among others, including UC Berkeley Haas School of Business, TeamPeople, ABT Molecular Imaging, Carpathia, Maryville College, Pilot Flying J and many others.
For more information about who Pyxl is, what they do and how to join this growth, visit http://expansion.thinkpyxl.com.
About Pyxl, Inc.
Founded in 2008, Pyxl, an inbound marketing firm, designs and develops custom websites, web applications and mobile apps that balance technology and design with an effective user experience. With offices in Scottsdale, Ariz., Boulder, Colo. and Knoxville, Tenn., Pyxl utilizes its digital marketing experience to help clients meet their digital goals, whether that means driving traffic through an integrated digital marketing and public relations campaign, encouraging online engagement via social media or increasing sales through e-commerce functionality. Pyxl builds online tools for nationwide brands seeking enterprise level support. For more information, visit http://www.thinkpyxl.com.