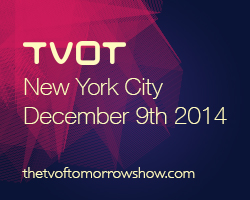 "…Truly my favorite show of the circuit, and the place where I meet the best, most interesting and forward-thinking people in this space." – Sherry Brennan, SVP, Distribution Strategy & Development, Fox Networks
New York, NY (PRWEB) December 03, 2014
InteractiveTV Today, [itvt], the most widely read and trusted news source on multiplatform, interactive and social TV, today announced that its flagship event, The TV of Tomorrow Show (TVOT), is returning to New York on December 9th. Television executives, thought leaders, technologists and creatives from around the world have embraced TVOT, now in its ninth year, as the show of record for the latest innovations in TV and video. At this year's TVOT NYC, the show's distinction as a proving ground for the interactive and multiplatform television industry/community will continue, with sponsorship and expertise from such future-thinking companies as Adobe, Videology, Simulmedia, LG, Vubiquity, Nielsen, Digitalsmiths, FreeCast, Rentrak, Clarivoy, MIPTV/MIP Digital Fronts, Ensequence, Lingospot, Clearleap, AT&T AdWorks, NAGRA, This Technology, thePlatform, Accedo, Canoe, Rovi, Clarivoy, NeuLion, You.i TV and Ovee. Speakers also include leaders from NBCUniversal, DISH Network, YouTube, ESPN, A+E, Facebook, Discovery, Scripps Networks, Roku, TiVo, Sky, Mondelez, Sling Media, Cisco, Microsoft, Univision, Twitch, Endemol, Visible World, Delivery Agent, CIMM, Pearl, and many other leading companies and organizations in the advanced-TV space. TVOT NYC 2014 will also feature the return of [itvt]'s Interface Showcase, its popular contest and session that honors the best TV and video User Interface (UI)/User Experience (UX) designs of the past year. To register for TVOT NYC 2014, click here.
TVOT NYC 2014 uniquely combines education, networking, news-breaking and deal-making in a one-day, dialog-driven, intensive format. The show is designed to foster relationship-building and a productive exchange of ideas between the pay TV operators, consumer electronics manufacturers, social media companies, entrepreneurs and technologists who are building the TV platforms of tomorrow; and the brands, broadcasters, networks, agencies, marketers, investors, producers/creators, developers, designers, storytellers and other stakeholders upon whom the success of those platforms depends.
Sponsors of TVOT NYC 2014 include: Adobe, Videology, Simulmedia, LG, Vubiquity, Nielsen, Digitalsmiths, Rentrak, FreeCast, MIPTV/MIP Digital Fronts, Ensequence, Lingospot, Clearleap, AT&T AdWorks, thePlatform, NAGRA, This Technology, Accedo, NeuLion, Canoe, Rovi, You.i TV, Ovee, The VideoInk, Silicon Harlem and Breakaway Communications
Highlights of this year's show include:

Keynotes from Alan Wurtzel, President of Research and Media Development at NBCUniversal; Sanjay Macwan, Chief Technology Officer at NBCUniversal Media Labs; and Michael Willner, President and CEO of GreatLand Connections and CEO of Penthera.
Panels and firesides on such topics as TV Everywhere, TV measurement and analytics innovations, the unbundling of programming networks, the emergence of the virtual MSO, addressable advertising, the merging of TV and Internet advertising, the "360-degree" TV user experience, programmatic TV buying, delivery of 4K UHD content over-the-top, regulatory changes impacting the TV market, social TV, new strategies for engaging audiences, and much more.
A special Interface Showcase session led by Wes Williams, Director of Product Management at Scripps Networks Interactive, where TVOT's braintrust of prominent TV and video designers from such companies as Cisco, You.i TV, Trollback+Company, W12 Studios, and Method will judge the finalists and select a grand prize winner. The interactive session will also invite the audience to choose a "People's Choice" winner.
A "Working Lunch," sponsored by Simulmedia, in which industry leaders will address the question: "Are We Ready to Shift the TV Advertising Business from Media Outputs to Business Outcomes?"
A Holiday Cocktail Party, sponsored by Rentrak, featuring a range of gourmet delights and a special Rentrak cocktail!
"2014 has been a transformative year for the television industry, in which TV Everywhere, subscription-based "virtual-MSO" and unbundled programming services, addressable advertising, innovations in TV measurement and analytics, and a range of other emerging phenomena have impacted the space," said Tracy Swedlow, CEO, editor-in-chief and founder of [itvt]. "TVOT NYC will be the last opportunity this year for the community to gather and reflect on these trends and to chart the industry's course for 2015. We're looking forward to returning to New York City, and once again helping to push the TV industry further into tomorrow over the course of a day."
Here is what attendees have said about previous TVOT events:

"Great show this year!" – David Preisman, VP of Interactive TV, Showtime
"The crowd was large, exceptionally engaged and excited, you continue to bring new people into the interactive and multi-platform discussion, the panel sessions were informative…" – Geoff Katz, VP, Business Development and Marketing, Watchwith
"…Truly my favorite show of the circuit, and the place where I meet the best, most interesting and forward-thinking people in this space." – Sherry Brennan, SVP, Distribution Strategy & Development, Fox Networks
Follow TVOT on Twitter at @TVOTshow.
###
About Interactive TV Today:
Founded in 1998 by Tracy Swedlow and co-owned by Richard Washbourne, Interactive TV Today [itvt] is the most widely read and trusted news source on the rapidly emerging medium of multiplatform, broadband interactive television (ITV). We provide concise, original coverage of industry developments, technologies, content projects, and the people building the business to our readership, which is made up of hundreds of thousands of executives from around the world.
About TMRW Corp:
TMRW Corp. creates high quality experiences and services that push the world into "tomorrow."
For further sponsorship information or speaking opportunities, please contact:
Tracy Swedlow
CEO, Editor-in-Chief and Executive Producer of TVOT
Swedlow(at)itvt(dot)com
415 824 5806
For media relations inquiries, please contact:
Constance Rose-Edwards
Breakaway Communications for TVOT
credwards(at)breakawaycom(dot)com
212 616 6004