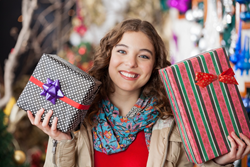 In the near future, small businesses will consider Wi-Fi as fundamental to their success as electricity or running water
Hoboken, New Jersey ­- (PRWEB) December 02, 2014
eMazzanti Technologies, a NYC area IT consultant and managed services provider (MSP), shows how adding a customer-facing Wi-Fi network can increase holiday sales in a new article.
"eMazzanti works hard to provide our customers with the most advanced and secure retail technology," stated Jennifer Mazzanti, President eMazzanti Technologies. "Small business retailers can confidently add a customer Wi-Fi network to increase sales while providing the security that customers and the business require."
Below are a few excerpts from the article "Increase Holiday Sales by Adding Customer Wi-Fi". Read the full article here.
The holiday shopping season can make or break a small business retailer. Store owners are always looking for ways to increase holiday sales. If they haven't done so already, retailers should consider adding a complimentary customer wireless network to attract more shoppers the article begins.
Wi-Fi Survey
According to a survey of more than 400 small B2C businesses conducted earlier this year by iGR, the addition of free Wi-Fi increases traffic, time in the store and amount spent per customer. Half of the businesses surveyed said that customers spent more money after Wi-Fi was added, while less than 1 percent said they spent less…
"The survey results show how important the provisioning of customer-facing Wi-Fi has become for retail businesses," stated Iain Gillott, founder and president of iGR. "In the near future, small businesses will consider Wi-Fi as fundamental to their success as electricity or running water."
Evolving Habits
The Wi-Fi survey is great news for small retailers. It dispels the myth that Wi-Fi users just hang out and don't buy anything. As online research becomes more ingrained in shoppers' habits, the numbers show that in-store Wi-Fi increasingly facilitates the purchase decision.
More than half of shoppers believe their mobile devices are more useful to assist with buying decisions than in-store sales associates, according to research from Motorola.
Minimize the Risk
To minimize the risk, it's important to isolate a customer wireless network from core business systems so hackers can't possibly access business data, and computers. Determined data thieves often use wireless networks to access company networks. Physically separating the two provides the best protection…
Secure Customer Wi-Fi
eMazzanti Technologies has installed and maintains secure wireless networks for hundreds of retail stores nationwide. With engineers trained on the latest wireless and mobile technologies small businesses can expect a solution that will provide the secure Wi-Fi needed to accommodate modern mobile-equipped shoppers and increase sales this holiday season.
Related resource information:
6 Technology Options to Improve Service and Enable Growth for SMB Retailers
eMazzanti Delivers PCI Compliance Peace of Mind Enabling Growth for Home Goods Retailer
About eMazzanti Technologies
eMazzanti's team of trained, certified IT experts rapidly deliver cloud and mobile solutions, multi-site implementations, 24×7 outsourced network management, remote monitoring and support to increase productivity, data security and revenue growth for clients ranging from professional services firms to high-end global retailers.
Serving more than 400 Hoboken, NJ, NYC area and international customers, eMazzanti is Microsoft's 2012 Partner of the Year and 2013 Northeast Region Partner of the Year, a 5X WatchGuard Partner of the Year and has made the Inc. 5000 list five years running. Contact: Carl Mazzanti 201-360-4400 or emazzanti.net Twitter: @emazzanti Facebook: Facebook.com/emazzantitechnologies.
Download the free article: How to Select an IT Provider here.