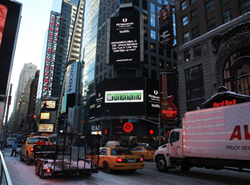 If someone were to duplicate the gold rush of 1849 to the digital age, this would be it! The ong.social network will make people the most amount of money for social media content. Period.
Kirkland, WA (PRWEB) December 02, 2014
The ong website that resides on the new dot social domain allows people to control and make money from the content they post to social media by providing ability for users to launch individual, business, fan, school or brand pages at ong.social, where they will now control and make money from all of the ads that run on their platform pages. Ong also incorporated ad control settings to allow users to target the ads for their pages according to desired category, or according to the ad that is receiving the highest bid price from advertisers - earning users the most money.
The concept behind ong is to simply allow users the ability to take control of and monetize the content they already post on other social media sites for free - where it is monetized by the established social giants. Ong will put that money back in their pockets.
Now users will be able to upload and distribute content from ong.social that in essence pays them to do what they already do online.
Ong was founded by Christopher Kramer who boasts that the ong.social network will make users the absolute highest cash earnings for their time and content, period. "If someone were to take the gold rush of 1849 to the digital age, this would be it. There is over $100 Billion spent each year advertising online and ong.social allows users to launch and manage unlimited social media pages for free to now make money from and tap into that massive ad spend. All they have to do is launch their ong.social pages to stake their claim and start cashing in big on all that advertising revenue."
Kramer adds, "We also included many tools to help maximize earnings, along with saving them time and money."
The site is packed with features, such as a centralized, social dashboard that includes a scheduling tool to allow all users to centralize social accounts to a single dashboard and then schedule, distribute and auto post social media marketing messages to connected social networks- at no cost. The site also offers premium features geared toward enterprise business that require more complex publishing control with options for multi-user, page administration.
"We allow users full page control, so they can even turn off ads if they don't want them. So an account holder could choose to select no ads on some pages, but include them on others - Or, they can just use the dashboard, scheduler and multi-user administration tools to save time and money."
Ong.social also added some fun with real life "gamification" that allows users (aka publishers) to increase their cut of the advertising revenues from the pages they launch at ong.social by performing simple actions on the site. Users can earn (6) badges that offer them the opportunity to increase real cash earnings. Yet, if they decide to bypass "gamification", they can accelerate to maximum platform earnings at any time by paying a nominal fee.
Last, Kramer says that ong wanted to be clear about account structure. "We didn't want to have any multi-level or pyramid structure. There are no parents or children, or anything like that. Our system design is straight forward, fun and offers people the ability for the highest amount of cash earnings. Period."
About OneName Global, Inc.
An entirely new concept in social media the site boasts a high value proposition of platform tools, including a centralized dashboard, whereby all networking sites will sit awaiting the posting of pithy quotes, engaging photos and milestone events.
OneName Global, Inc. (ON-G) incorporated in December of 2013 as a Delaware Corporation and is commonly referred to as "OneName".
The ON-G, social icon itself was created as the representation of the consolidated brand name, social icon and online social "button".
For more information visit https://ong.social
Media Contact:
Christopher J Kramer
425.893.9698
Info(at)onenameglobal(dot)com