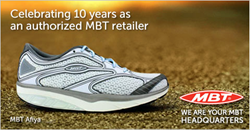 We are excited to carry the newest MBT shoes available. Our customers have been anxiously waiting for these, and we are delighted to satisfy their needs.
Sunnyvale, CA (PRWEB) December 02, 2014
Footwear etc. is delighted to announce that new MBT shoes have arrived. MBT is known for its wide variety of styles containing their patented rocker sole, and customers have eagerly anticipated these new arrivals. With styles ranging from athletic to dress shoes, there is a MBT shoe for everyone.
All MBT footwear contains a patented rocker sole. This sole is composed of 5 layers, all of which work together to help wearers feel as though they are walking on sand. The rocker sole forces the individual to find his/her own center of balance as he/she walks, and absorbs shock and helps propel the wearer forward in an efficient and comfortable manner. Footwear etc. contains the largest selection of MBT shoes in the U.S, with a wide variety of styles and sizes.
New MBT shoes for women for the season include: The Rukiya – a casual leather lace-up walking shoe. This shoe is perfect for daily or weekend casual wear. It is neutral enough to wear with a wide variety of garments. The Hiari Lace – a leather and mesh walking shoe that is sporty and athletic in appearance. It is vaguely reminiscent of a hiking shoe, but with all the properties of an MBT shoe. New models for men include: the Time Service – this lace-up shoe is available in black or white leather, and has the huge feature of being slip resistant. This is a great shoe to wear under wet conditions when you're at work or at play. The Baraka is a slip-on shoe available in black or coffee nubuck. It is casual and easy to get on and off due to its elastic goring. Best sellers this season for women include: the Sport 3. This flagship athletic shoe is lightweight and comfortable due to its leather and mesh upper, and is the quintessential athletic-styled walking shoe. The Elea 2 is a beautiful slip-on leather shoe for women that is appropriate for casual or slightly dressy attire. Best sellers for men include: the Seif – a lace-up ankle height hiking boot. It is sporty yet rugged and is great for those long weekend walks. The Kabisa is an elegant dress shoe. Its oxford style is a timeless classic, and the luxurious leather makes this shoe extremely comfortable.
District Manager Andrew Monarch adds, "We are excited to carry the newest MBT shoes available. Our customers have been anxiously waiting for these, and we are delighted to satisfy their needs."
MBT shoes are available in Footwear etc.'s retail stores as well as online at footwearetc.com.
About Footwear etc.:
Footwear etc. is a well-established, family-owned business, headquartered in Silicon Valley, CA since 1986. The company is committed to improving customers' quality of life by offering brand name products that demonstrate their belief in the need for healthful, comfortable and fashionable footwear. Footwear etc. operates ten retail stores located throughout the Bay Area and San Diego, and also offers their products on their website and catalog. To find out more, please visit http://www.footwearetc.com.