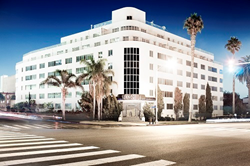 Get ready to ring in the new year at Hotel Shangri-la's Suite 700 for an exciting Masquerade Party with food, cocktails and champagne toast included.
Santa Monica, CA (PRWEB) December 02, 2014
Here at the Hotel Shangri-la at The Ocean, the holidays are anything but ordinary with our exclusive dining and dancing offerings during the most festive season of the year. Executive Chef Kareem Shaw has meticulously prepared a Christmas Day Feast and a New Year's Eve Gala Dinner which will be served in the popular ocean view Dining Room.
Christmas Day
Chef Shaw's Christmas Day feast tempts the palate with a specially created four course prixe fixe dinner, which is served in addition to the tantalizing dishes usually offered in The Dining Room. Guests can enjoy a beautiful ocean view and first-class gastronomy that blends California comfort, fine dining and hushed intimacy on this special day.
The Christmas feast begins with an appetizer of Shrimp Cocktail or Carpaccio, fresh Mixed Green or Kale salad, and a main course selection of fresh Roasted Turkey, tender Rib Eye, seared Chilean Sea Bass or Risotto. The feast culminates with a delectable dessert of Apple Tart or Chocolate Cream Cake. The prix fixe price is $75 per person* and children 12 and under are $40. Dining reservations are recommended. This year's Christmas Feast will be served from 3 pm to 10 pm on December 25th, and the Dining Room is open from 7 am to 10 pm.
Hotel Shangri-la's New Year's Eve Dining
There is nothing quite like New Year's Eve at the timeless Hotel Shangri-la. Begin the celebrations in The Dining Room with a specially prepared four-course gala dinner before starting the countdown to 2015 at the Masquerade Party in Suite 700, Santa Monica's only open-air rooftop bar and lounge that overlooks the ocean.
The New Year's Eve gala dinner begins with an appetizer of Fresh Oysters or Carpaccio; Arugula or Poached Pear salad; and main course selections that include Lobster & Filet Mignon, Rib Eye and & Chilean Sea Bass, or Butternut Squash Ravioli. To satisfy a sweet tooth, choose between Poached Pear or Napoleon pastry. The prix fixe price for dinner is $90 per person* and chidren 12 and under are $50. New Year's Eve dining is available from 3 pm to 11 pm and seats are limited so advance reservations are required.
New Year's Eve Masquerade Party at Suite 700
Get ready to ring in the new year at Hotel Shangri-la's Suite 700 for an exciting Masquerade Party with food, cocktails and champagne toast included. Come dressed to the nines, enter the mask contest for a chance to win a night at the Hotel Shangri-la and enjoy the iconic sounds of DJ Paper's performance throughout the evening to celebrate the arrival of 2015. Relish the views and the vibes in this spectacular location for the most important evening of the year. Enjoy a tray passed menu, three cocktail tickets and midnight champagne toast. Tickets are limited and can be purchased for $150* per person.
Diners who book both the New Year's Eve gala dinner and the Masquerade Party will receive a complimentary bottle of champagne or wine with dinner.
*All prices exclude tax and gratuity. Dining reservations can be made by calling (310) 451-0717 or booking online.
About Hotel Shangri-la
The urbane Hotel Shangri-la at The Ocean in Santa Monica is anything but ordinary and a member of Small Luxury Hotels of the World. Overlooking the Pacific since 1939, the hotel is a striking beacon of Art Deco elegance, a chronicle of the golden era of Hollywood and a quintessential nexus of culture. Hidden away on a high Santa Monica bluff overlooking the ocean and historic Santa Monica Pier, this timeless luxury boutique hotel promises guests their own personal Shangrila. Guests enjoy brilliant views of the Pacific Ocean, a celebrated history and a cultural connection during their stay. In the U.S., for toll-free room reservations only, please call (800) 345-STAY (7829) or for more information, visit http://www.shangrila-hotel.com.