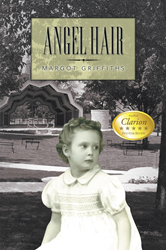 Women in the 1950s had fewer freedoms than their children did
POINT ROBERTS, Wash. (PRWEB) December 03, 2014
Ninety-five years ago, the US Senate finally passed the Nineteenth Amendment, giving women the right to vote. As women have had the right to vote for such a short time, women still living remember what it was like for their mothers to live without suffrage.
Angel Hair, the story of the eccentric and gifted Morgan family in Victoria, British Columbia in the late 1950s and early 1960s, centers on such inequality. Through themes of love, friendship, conflict, betrayal and family secrets, author Margot Griffiths explores the ambivalence main characters ten-year-old Myfanwy and her mother Eleanor feel about their lives and each other.
"Women in the 1950s had fewer freedoms than their children did. Back then, children were in charge of childhood. Their lives were more imaginative; their mothers' lives, stifling," Griffiths said. "Women of my generation grew up fighting that inequity before the major thrust of feminism began."
The author studied psychology as a way of understanding her non-traditional family. Griffiths' mother struggled against depression and the traditional norms that trapped her, while her father struggled with alcoholism.
"I pursued psychology at least in part to explore the issues that had marked my family," Griffiths said.
With Angel Hair, Griffiths finds yet another way to explore the relationship between a mother and a daughter.
For more information, visit http://www.margotgriffiths.com.
Angel Hair
By Margot Griffiths
ISBN: 978-1-4836-6301-2
Available on Amazon, Barnes & Noble and Xlibris.
About the author
Margot Griffiths earned her BA and MA in psychology at The University of British Columbia and taught there for twenty-five years, volunteering as a visiting professor in Tanzania during sabbaticals. She raised her three children as a single parent and enjoys traveling.
# # #
For review copies or interview requests, contact:
Jaymie Shook
317.602.7137
jshook(at)bohlsengroup(dot)com
(When requesting a review copy, please provide a street address.)