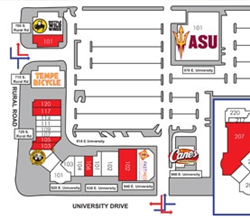 117,351 Square Feet of Prime Retail Space in Tempe acquired by an entity owned by Bob Parsons
Scottsdale, AZ (PRWEB) December 02, 2014
Documents were signed today for the acquisition of The Cornerstone, located on the northeast corner of Rural Road and University Drive in Tempe, Arizona. The 117,351 square foot retail center was acquired by Cornerstone Retail, L.L.C., a commercial real estate entity affiliated with YAM Properties. The Cornerstone, which was 90 percent occupied at the time of the sale, is anchored by Tempe Improv and is home to notable tenants including ASU, Buffalo Wild Wings, Fast Med Urgent Care, and Raising Canes.
The Cornerstone is part of a five-building complex located at one of the most recognizable intersections in the Southeast Valley. The property is adjacent to ASU's University Center and Athletic Performance Center.
The Cornerstone is the fourth commercial real estate property in Tempe acquired by YAM Properties since September of 2013. The company now owns approximately 372,000 square feet of gross leasable space throughout the downtown Tempe area. Properties include The Cornerstone, Centerpoint on Mill, Tempe Town Center, and Hayden Station.
In the coming months, Icon Lasik and IHOP will take space at The Cornerstone.
For more information about YAM Properties visit http://www.YAMProperties.com.
About YAM Properties
YAM Properties is a commercial real estate investment group based in Scottsdale, Arizona. The group was founded by Bob Parsons who is also the founder and CEO of YAM Worldwide. YAM Properties owns and manages ten commercial real estate properties in the greater Phoenix area.
About YAM Worldwide, Inc.
YAM Worldwide is based in Scottsdale, Arizona. Privately held since its formation, the company employs more than 340 Arizonans and 50 Mississippians. The company is home to the business ventures of Bob Parsons, best-known as the founder and executive chairman of GoDaddy, in the fields of motorcycles, golf, real estate, marketing, innovation and philanthropy.
Core businesses include LZ Delta, L.L.C. which owns Harley-Davidson of Scottsdale, Go AZ Motorcycles and Spooky Fast Custom Finishing; MS LZ Delta, L.L.C which owns Southern Thunder Harley-Davidson and alternate retail outlets Graceland Harley-Davidson and Blues City Harley-Davidson; Scottsdale National Golf Club; Martz Parsons; YAM Capital; YAM Properties; and The Bob & Renee Parsons Foundation.