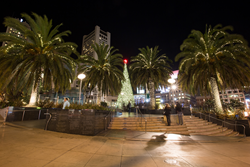 (PRWEB) December 02, 2014
The sophistication of contemporary San Francisco shines most brightly in the city's food scene, but world-class shopping is a close second. Whether looking for a special gift or secretly splurging, the city is home to a handful of shopper-friendly neighborhoods and commercial districts brimming with high-end boutiques, trend-conscious local shops, quirky vintage stores and everything in-between.
Ringed by hotels and theaters, and with the Powell Street cable car running up its western flank, Union Square is as much a shopping Mecca as a public plaza. Prominent department stores such as Macy's, Barney's and Neiman Marcus command outsized attention, but savvy newcomers such as the John Varvatos, Fresh, Inc. and Uniqlo have given the retail-rich neighborhood a fresh gloss. Premier luxury boutiques (Prada, Burberry, and Dior) and massive shopping experiences like the Levis flagship store, Britex and Gump's keep Union Square on top of most San Francisco shoppers' nice list.
Just two blocks from Union Square, Westfield San Francisco Centre offers San Francisco's ultimate style collection, the West Coast flagship Bloomingdale's, the second largest Nordstrom in the United States, 200 shops and restaurants, as well as San Francisco's largest day spa, Burke Williams. Polaoroid Fotobar, the first location in San Francisco, opens in time for the holidays. Stop by and instantly print images from smart phones, Facebook and digital platforms. Kate Spade and Club Monaco stores have just been remodeled; Asics debuts this season along with a brand new restaurant concept, TAP (415), from the team behind Twenty Five Lusk. Westfield's iconic dome comes to life every evening with a spectacular 3D light show that showcases one of San Francisco's most beloved traditions: the San Francisco Ballet's "Nutcracker."
Over the past 20 years, Hayes Valley has transformed from concrete jungle to major shopping destination — with a particular emphasis on home furnishings and vintage items. On three blocks of Hayes Street (plus adjacent side streets), you can browse well-curated shops that reward bold tastes. Discover reimagined Mexican folk art at Polanco, jewelry at Rand + Statler, or leather goods at Reliquary. A slew of menswear options has recently opened, too, including Welcome Stranger, Azalea and Aether. Don't miss Proxy, an avant-garde space built from stacked shipping containers and filled with emerging trends and talent.
In the Mission District, thriving Valencia Street's retail origins are visible in its thrift shops and specialized bookstores, where all manner of curiosities can be found. More recent arrivals to the corridor include uber-hip boutiques (Voyager Shop), terrariums and taxidermy (Paxton Gate) and Japanese denim (Self Edge). Plucky holdout Aquarius Records, the gift-filled Italian deli Lucca Ravioli, an audiophile's paradise, Dijital Fix, and lifestyle emporium, Harrington Galleries are all among the best in their respective categories, citywide.
Although best known for the Jazz District centered slightly south, the stretch of Fillmore Street just above Japantown, running from Sutter north to Clay Street, is home to a greater concentration of spas than just about anywhere else in San Francisco. Major health and beauty chains (Jurlique, L'Occitane, Nars and Kiehl's) abound, and for apparel, Betsey Johnson and Marc by Marc Jacobs preside over dozens of boutiques. Fillmore and its dense canopy of banyan trees are also home to a wealth of high-quality dining, so if you're weary from a day of shopping adventures, a delicious respite is never far from reach.
While it might be confusing to some visitors, Union Street is nowhere near Union Square. This strip of the Marina District is home to lavish health-and-beauty emporiums such as the Lash Lab and Neja Cosmetics. Complementary offerings include specialists in juice cleanses, pilates and yoga pants. Other neighborhood gems include jewelers such as David Clay and Jest Jewels; Moulin Pooch, possibly San Francisco's fanciest pet shop; stationers Union Street Papery; and the fabled Ambiance, voted "Best Boutique" by SF Weekly for an impressive seven years running.
Saturday, Nov. 29, is the fifth annual Small Business Saturday, the ceremonial kickoff to the holiday shopping season for small businesses across the United States. Started by American Express, everything about this event on the Saturday after Thanksgiving is big for shoppers. The shop small movement creates a big impact across the U.S. Shoppers are encouraged to support neighborhood stores. Find details at http://www.sanfrancisco.travel/article/small-business-saturday.
When it comes to finding one-of-a-kind items for everyone on the list, the solution is easy: handmade gifts from San Francisco's creative community.
The San Francisco Bazaar Holiday Show takes over the airplane-hangar-sized Herbst Pavilion at the Fort Mason Center for its eighth-annual, two-day, juried bonanza on Dec. 13–14. Some 150 selected vendors — including chefs and food truck proprietors —will be hawking their wares. Between the photo booth, the DIY workshops and the Craft Raffle, there will be nearly everything handmade and limited-edition, by locals and visitors in the know.
Savvy shoppers can skip from the Bazaar Holiday Show straight to the SFMade Holiday Gift Fair, also on Dec. 13–14 in the nearby Fleet Room at Fort Mason. This slightly smaller event showcases the work of 50 of the Bay Area's artisanal manufacturers and businesses. Find everything from screen-printed t-shirts to local wineries, picklers and high-end organic skin care. Apart from scoring jewelry assembled by master silversmiths, supporting SFMade's local makers has the added bonus of keeping high-skilled jobs in the city.
Serious art lovers mark their calendars for Creativity Explored's Annual Holiday Art Sale, Dec. 5-31. Over 100 artists — from painters to sculptors — set up their stalls at this Mission institution (now in its 31st year). It's a perfect spot to start redecorating the living room with locally made art.
At the Museum of Craft and Design, the gift shop's "I Left My Heart in San Francisco" collection includes locally-printed tea towels with iconic San Francisco images, up-cycled coasters, artistically inclined maps and more.
The Ferry Building Marketplace on the Embarcadero offers a taste of San Francisco any time of year. Drop by La Cocina's space for an assortment of local edibles to fuel marathon shopping adventures (or save to use as stocking stuffers).
For more on how to enjoy the holiday season in San Francisco, visit http://www.sanfrancisco.travel/holidays.
The San Francisco Travel Association is the official tourism marketing organization for the City and County of San Francisco. For information on reservations, activities and more, visit http://www.sanfrancisco.travel or call 415-391-2000. The Visitor Information Center is located at 900 Market St. in Hallidie Plaza, lower level, near the Powell Street cable car turnaround.
American Express® is the official Card partner of the San Francisco Travel Association.
San Francisco International Airport (SFO) offers non-stop flights to more than 34 international cities on 29 international carriers. The Bay Area's largest airport connects non-stop with 78 cities in the U.S. on 15 domestic airlines. SFO is proud to offer upgraded free Wi-Fi with no advertising. For up-to-the-minute departure and arrival information, airport maps and details on shopping, dining, cultural exhibitions, ground transportation and more, visit http://www.flysfo.com. Follow us on http://www.twitter.com/flysfo and http://www.facebook.com/flysfo.
# # #
Note to editors: For news and story ideas, follow @SFMediaRelation on Twitter. Photos and press releases are available at http://www.sanfrancisco.travel/media/.