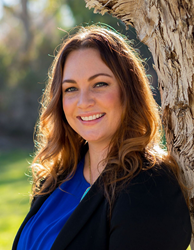 I had the chance to witness first-hand the depth of the therapeutic work that is occurring at Castlewood. It's not just treatment on the surface...When clients leave Castlewood, they leave as a whole person.
ST. LOUIS, Missouri (PRWEB) December 02, 2014
Castlewood Treatment Center, headquartered in St. Louis, with additional locations in Monterey, California, and Birmingham, Alabama, has added RaeEllen Ellis to its staff as Vice President of Sales and Marketing. Ellis, based in the Southern California area, will supervise and coordinate the efforts of Castlewood's regional outreach team. Ellis has worked in marketing for more than a decade and brings specific experience in the field of eating disorders and trauma based disorders.
Castlewood CEO Nancy Albus is pleased to have Ellis as part of the treatment center's team.
"It is wonderful to have someone of RaeEllen's caliber join our staff," Albus said. "She brings experience and energy to the position. She will be a tremendous asset in carrying our message of recovery."
Ellis added, "I am excited about working with the entire Castlewood team. Everyone has specific strengths, and they all work well together and respect each other. They utilize each other's strengths, and it's wonderful to be part of that."
As part of her orientation process, Ellis had the opportunity to spend a week at Castlewood's St. Louis location to understand first-hand what the center provides for clients with eating disorders, including anorexia, bulimia, and binge eating, as well as co-occurring disorders and addictions.
"After a week at the center, I was enlightened by the outstanding care that these clients receive from this brilliant, insightful and compassionate staff," Ellis observed. "I had the chance to spend time observing core groups and experiential groups so that I could witness first-hand the depth of the therapeutic work that is occurring at Castlewood. It is not just treatment on the surface. It's not just a matter of helping clients to reach an ideal weight and then sending them back home. Castlewood's clinicians have a heart in caring for their clients and working to address underlying issues. When clients leave Castlewood, they leave as a whole person."
It is this depth and quality of service that has earned Castlewood the Joint Commission's Gold Seal of Approval® for accreditation. This recognition assures that Castlewood meets the highest national standards in behavioral health for care and safety. "The motto here is Compassion, Respect and Empowerment," Ellis said. "I truly feel that with the employees and the clients. The staff is committed to treating the whole person with a collaborative and empowering approach. It was a beautiful experience to witness."
Castlewood provides individualized evidence-based treatment for each client. Doctors, therapists, dietitians and counselors all work together to develop a plan that begins with management of physical and behavioral symptoms and then progresses into a variety of therapeutic opportunities, depending on the client's needs. Underlying issues, such as depression, anxiety, obsessive-compulsive behavior and Post Traumatic Stress Syndrome, often accompany the behavioral symptoms of an eating disorder. The professional staff at Castlewood pays particular attention to the comprehensive care that treats the whole person.
About Castlewood
Castlewood Treatment Center helps people with eating disorders transform to healthier lives. Established in 2000 as the first residential treatment facility in Missouri, Castlewood's licensed health care team is nationally recognized and has decades of combined experience in providing compassionate, professional and successful treatment for more than 1,000 men and women with eating disorders and related conditions. They offer individualized, supportive and comprehensive care in a home-like residential setting to help people towards recovery and a bright, healthy future. Castlewood facilities are located in St. Louis, Missouri; Monterey, California; and Birmingham, Alabama and are accredited by the Commission on Accreditation of Rehabilitation Facilities and The Joint Commission. For more information, visit castlewoodtc.com.