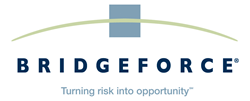 Chadds Ford, PA (PRWEB) December 02, 2014
Bridgeforce, a specialized multi-national consulting firm, is making their comprehensive Credit Bureau Management (CBM) consulting solutions available directly to data furnishers of all types and sizes.
For years, Bridgeforce has been evaluating Enterprise CBM processes of large data furnishers and supporting the implementation of end-to-end programs. Previously, Bridgeforce CBM solutions were only available on custom consulting engagements, however, in an effort to respond to the growing needs of all data furnishers, Bridgeforce is making their solutions available on both a licensed (e.g., self-serve) and custom consulting basis.
The Bridgeforce Rapid Response Solutions for Credit Bureau Management will enable data furnishers to conduct self-assessments, as well as implement best practice Enterprise CBM Programs designed to quickly become compliant with regulatory requirements (including FCRA). Current best practice CBM solutions include: enterprise governance and oversight structures, policy and procedure documentation, and audits / controls to ensure accurate reporting. Additionally, Bridgeforce is actively piloting automated tools, which evaluate Credit Bureau Reporting Metro 2® files for data quality issues.
Brian Reiss, President of Bridgeforce, explained, "given the heightened regulatory focus on the accuracy and integrity of Credit Bureau data, and the increasing number of recent fines levied against data furnishers for inaccurate reporting, we have decided to make our custom consulting solutions available to all types of data furnishers. These include both custom and 'self-serve' packaged solutions, allowing our clients to use our services in the most efficient and timely manner for their business needs."
Bridgeforce is planning additional CBM product and solution offerings throughout the coming year. For additional information about Rapid Response Credit Bureau Management Solutions from Bridgeforce, please contact Aleks Volkov at avolkov(at)bridgeforce(dot)com.
About Bridgeforce
Bridgeforce is a specialized multi-national consulting firm serving a variety of clients involved in almost all aspects of the consumer and small business lending and payments space. Over 75% of Bridgeforce consultants come directly from client-side leadership positions across multiple parts of the credit lifecycle. Combined with subject matter expertise in operations, technology, strategy and regulatory issues, Bridgeforce has the knowledge and experience to make the hard choices in developing and implementing best-fit solutions that are both achievable and lower the risks of execution to ensure sustainability. The Bridgeforce success can be attributed to a culture fostering innovation and evolving experienced-based best practices recognized within the industry. For more information, visit http://www.bridgeforce.com.