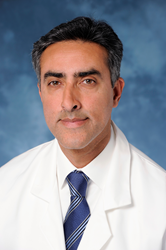 We strive to provide the highest quality critical care services to patients throughout the San Fernando Valley
Van Nuys, Calif. (PRWEB) December 02, 2014
Valley Presbyterian Hospital (VPH) is pleased to announce Sanjay Vadgama, MD, as the Medical Director of Critical Care Services.
Dr. Vadgama joined the medical staff in March 2007 as a board-certified pulmonologist specializing in critical care medicine. Dr. Vadgama also serves as Medical Director of the hospitalist program at VPH. In his new role, Dr. Vadgama will oversee the Intensive Care and Telemetry units. He will provide education to staff and patient care teams, serve as the physician liaison to the administrative team, chair the Critical Care Committee and assist nursing leadership with patient flow and the continuum of care.
"I'm honored to have the opportunity to further lend my skills and knowledge to Valley Presbyterian Hospital," Dr. Vadgama said. "We strive to provide the highest quality critical care services to patients throughout the San Fernando Valley."
Dr. Vadgama received his medical degree at the University College London Medical School in London, England, and completed his residency at the West Los Angeles Medical Center of the VA Greater Los Angeles Healthcare System. He also completed a fellowship in Pulmonary Disease and Critical Care Medicine at Cedars-Sinai Medical Center in Los Angeles.
Dr. Vadgama is board-certified by the American Board of Internal Medicine and the American Board of Sleep Medicine. He is a member of the Royal College of Physicians (England), and a fellow of the American College of Chest Physicians.
"I'm pleased to welcome Dr. Vadgama in his new role as Medical Director of Valley Presbyterian Hospital's Critical Care Services," said Gustavo Valdespino, President & CEO. "His medical expertise and collaborative leadership will further the hospital's mission to improve the quality of health in our community."
ABOUT VALLEY PRESBYTERIAN HOSPITAL
Valley Presbyterian Hospital (VPH) is an independent, nonprofit and nonsectarian hospital serving the medical needs of the San Fernando Valley community for more than 50 years. VPH has grown to become one of the largest acute care hospitals in the Valley region and continues to provide patient-centered care for a healthy community. The 350-bed facility offers advanced technology and a full range of medical services to improve and save lives. For more information, visit http://www.valleypres.org.