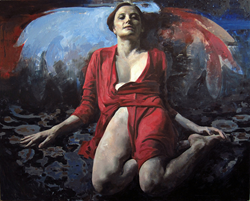 Hollis Dunlap gives monumental grace to the simplest of scenes and imbues a timeless dignity to each face he portrays.
Hallandale Beach, FL (PRWEB) December 02, 2014
Right in the prime moments of the most famous art fair in the world, Art Basel Miami, an exhibition is premiering at a maverick gallery, Sirona Fine Art, that flies in the face of modern conventions. Opening just north of the hustle of this contemporary-flavored extravaganza in Miami, the Hollis Dunlap solo show superbly displays skills learned from the Renaissance Old Master's such as Michelangelo and Caravaggio. Classic themes of the Nude, interior spaces and atmospheric landscapes are presented anew with each canvas. Yet his compositions and brushwork makes him thoroughly a man of his time, embracing modernist and even abstract elements. Though still in his 30's, he has been exhibiting in New York and nationally for a decade. To witness Dunlap's work in person is to understand that young artists who truly live in the world of today can still create great, grand and important painting with the skill and spirit of the old masters while still solidly connecting to the 21st century. Dunlap will be flying in to attend the reception and speak about his work.