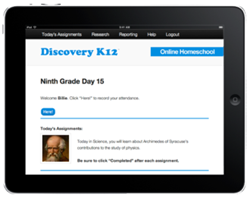 The only way to avoid Common Core is to homeschool - Sheri Wells, Discovery K12
Monarch Beach, CA (PRWEB) December 02, 2014
Discovery K12, an online homeschool platform and curriculum provider, reports the number one reason parents are homeschooling their kids is because of the national Common Core standards.
Forty-three states and the District of Columbia have adopted the Common Core States Standards Initiative (CCSSI) with Oklahoma, Texas, Virginia, Alaska, Nebraska, and Indiana not adopting them and Minnesota only adopting the English Language Arts standards. A recent PDK/Gallup Poll found that over 60% of Americans oppose the standards. Common Core is a set of standards for what children should learn from kindergarten to twelfth grade in Language Arts and Mathematics.
"Parents have major concerns over Common Core," says Sheri Wells, CEO and founder of Discovery K12. "Some of these concerns are how the standards were developed, the confusing approaches to math, reading assignments with inappropriate content, data collection, and over testing."
Leading educational experts are also opposed to the standards. "Whose child is it? Is it the government's right to teach the child what the government thinks the child should know? Or is it my child and I should have some say in it?" said Ze'ev Wurman, member of the California Academic Content Standards Commission (2010) & former U.S. Department of Education official.
Recently, North Carolina stated it had a 14% increase in homeschooling due to parents' concerns over the standards, and similar increases have been seen in Virginia, California and New York.
"The only way to avoid Common Core is to homeschool," says Wells. Most states have policies and procedures for parents who want to independently homeschool their children. There are few alternatives for finding a non-Common Core curriculum as most publishers are aligning to the standards, including the online public and virtual schools. Discovery K12 is a complete online curriculum for kindergarten through twelfth grade that is non-Common Core.
"Homeschooling is not a trend. It's been around a long time and it's only getting more popular," says Wells whose platform and curriculum has over 25,000 K12 students learning at home.
Every day, Discovery K12 gets emails from parents pulling their kids from the public school system and taking matters into their own hands. "Our family is desperately seeking a program that is NOT Common Core aligned. Your program is the ONLY one available that we could find," writes one Discovery K12 homeschool parent. "I have all three of my daughters in online public school in California. It is Common Core and I am extremely bothered by the material," writes another parent.
Like the Industrial Revolution when people migrated from rural to urban areas, K12 education is transitioning from the classroom to online learning at home. There are many reasons why parents are homeschooling today, but Common Core is at the top of the list.
About Discovery K12 – http://DiscoveryK12.com:
Discovery K12 is leading the way in providing best-in-class technologies and content directly to students. The company's platform and curriculum encompasses over 16,000 assignments across 90+ courses in 7 subjects, including language arts, math, reading/literature, history/social studies, science, visual/performing arts, and physical education.
Sources:
Common Core Spurs Increase in Homeschooling in North Carolina
August 20, 2014 - PDK/Gallup Poll