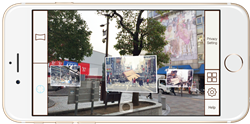 remember memories in space with AR
(PRWEB) December 04, 2014
Yesterscape, an AR app developed by QOOQ inc., a Kyoto IT company, is now able to show the 1995 earthquake photographic archive from the Kobe Newspaper Company. Using Yesterscape (free from the app store), everyone will be able to see the photographs taken at that time on that place. Since the pictures are located in the same place as they were taken, they appear as if they are windows to the past of 1995.
With over 100 points around Sannomiya and Motomachi, photographs that have been published are shown in different angles so that visitors can view them by just moving around that area. 2015 is the 20th anniversary of the Great Hanshin-Awaji Earthquake. Kobe's newspaper company has published an extensive catalogue of photographs along with their locations on their electronic website "NEXT". This project is a part of their campaign.
[About Yesterscape]
Yesterscape is the world's first AR camera app since 2013 and has been downloaded more than 200,000 times in over 100 countries. The main characteristic of this application is that pictures taken by it, are not just saved in the user's gallery but instead they are "carved" in time and space. Because pictures are stored in the cloud, even after changing their device, users going back to the same place after a few decades will be able to see their pictures the same way as they took them. For photos taken by family and friends users will even receive a notification informing them that these pictures exist around that area. (Which can be very touching after a few years have passed.)
Furthermore, it is also possible to register photographs taken in the past through Yesterscape's web interface. Photographs from events (such as this one), of universities, from governments, historical and personal can all be registered easily. There is also a growing number of such nostalgic historical photos from a few decades ago.
The 2020 Olympics will be held in Tokyo, because of this we are seeking to enhance the user's perception by providing a similar experience to this project but by showing the contrast between the Olympics that took place in the past and how they will look in the coming future. Currently Yesterscape is only compatible with the iPhone, but we are promoting the development of the Android version.
[About QOOQ inc]
QOOQ inc. is a small Kyoto startup company that has seven employees including part-timers. Since its establishment in 2007, we have kept a single ideology, to "change the people's consciousness ten years from now". Recently, in November 2014, we announced the development of a revolutionary application that can draw in the AR space by moving the iPhone as if it were a brush. "3D Painting" along with "Yesterscape" are not just for entertainment, instead they seek to change the people's perception of a super imposed "informational-space".
[Downloading the APP]
Yesterscape can be downloaded for free from the iTunes app store through the following link: https://itunes.apple.com/us/app/id629762985
Alternatively searching for "yesterscape" or "qooq" will also lead to the download page.
[Inquiry]
About Yesterscape
QOOQ inc
Email: info(AT)qooq.co.jp
Tel: 81-75-406-0788
HP: http://www.qooq.co.jp
APP HP:http://yesterscape.com
About Pictures
THE KOBE SHIMBUN Digital Media Promote Branch
Tel: 81-78-362-7329
Email: webmaster(AT)kobe-np.co.jp
HP: http://www.kobe-np.co.jp/rentoku/sinsai/