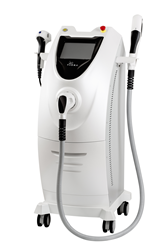 Following on the heels of receiving CE certification, attaining FDA approval for the V20 multi-technology platform is confirmation of the system's strengths and capabilities
Jersey City, NJ (PRWEB) December 02, 2014
Viora, a leading medical aesthetic solutions provider, is proud to announce that the V20 multi-technology system, part of the V-Series platform family, has received FDA clearance for marketing in the US. This certification ensures that aesthetic practitioners can acquire the V20 platform to their arsenal of solutions, adding state-of-the-art, innovative and unique technologies, via handpieces which are interchangeable between the V-series systems. The flexibility of V20 guarantees easy and convenient upgrades to additional technologies, when developed, while practitioners capitalize on Viora's proprietary combination clinical protocols to deliver unprecedented clinical efficacy and patient satisfaction.
Viora's proprietary technologies are the driving force behind the superiority of the V20 and all the V-Series multi technology platforms:

PCR™ (PulseConfiguRythm™) elevates Light technology for treating hair removal, skin rejuvenation, pigmentation and vascular lesions and acne clearance by generating various pulse structures and provides adjustable pulse duration – from single to rapid pulse- ensuring that every skin type and condition can be treated. PCR™ is incorporated in the V-IPL handpiece; with five interchangeable filters and contact cooling, patients can receive the fastest, safest, most comfortable and effective treatments available.
CORE™ (Channeling Optimized RF Energy) is revolutionary multi-RF technology that performs skin tightening utilizing the V-ST handpiece. CORE's three individual RF frequency channels of different depth penetration, and a fourth channel incorporating all three frequencies gives greater depth penetration and control, delivering the most comfortable, effective treatments available.
"Following on the heels of receiving CE certification, attaining FDA approval for the V20 multi-technology platform is confirmation of the system's strengths and capabilities. It is gratifying to be able to deliver a well regulated system to our customers, assuring them that we keep their needs for success in mind," said Eliran Almog, CEO, Viora Inc. "The V20 platform delivers innovative technology to aesthetic practitioners, for enhanced clinical efficacy and improved flexibility, cementing Viora's leadership position in this market."
About Viora
Viora is a market-leading aesthetic solutions provider for skincare applications for patients seeking the most advanced developments for the most requested treatments: rejuvenation, resurfacing, body & facial contouring, skin tightening, cellulite reduction, acne control, lightening, hydration, hair removal, exfoliation and more. Viora's expertise in developing solutions and technology for these applications ensures greater physician and client satisfaction. Viora's extensive knowledge and experience is forged from its expansive and deep connections to the aesthetic community and has allowed Viora to create the most sought after solutions, and achieve the most effective results. For more information, visit http://www.vioramed.com.