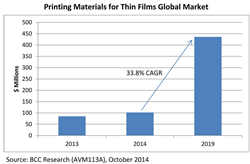 Wellesley, MA (PRWEB) December 02, 2014
BCC Research reveals in its new report that the increased market penetration of thin-films materials due to rising demand for portable, wearable and flexible electronics; the need for low-cost deposition processes; advancements in printing technologies; and a growing availability of nanomaterials with improved properties at reduced unit prices is projected to grow at a compound annual growth rate (CAGR) of 33.8% from 2014 to 2019, reaching global revenues of $435.7 million by 2019.
In the post-war era, the booming electronics industry has driven device miniaturization, and film fabrication processes have steadily evolved to the point of delivering increasingly thin, highly uniform, homogeneous films. Thin-film printing materials (TFPMs) currently represent a negligible share of this market (less than 1%) but their industry is predicted to rapidly surge in the near future compared to other thin-film materials. TFPMs for optoelectronic applications represent the largest share of the market with an estimated 56.6% of the total in 2014. Revenues within this segment are primarily driven by sales of TFPMs for new-generation displays, such as rigid and flexible Organic Light Emitting Diodes.
The electronics and energy sectors also account for significant shares of the market, with 21.2% and 18.6%, respectively, of the global TFPM market in 2014. The remaining applications combined currently represent a much smaller segment, with less than 5% of the total market.
"Unconventional processes derived from thick-film technologies are currently estimated to account for less than 0.5% of the total market," says BCC Research analyst Margareth Gagliardi. "Thin-film processes based on printing of nanomaterials are becoming increasingly popular, but at the present time they still represent a small share of the entire thin-film industry."
Printing Materials for Thin Films: Technology and Global Markets provides an updated review of thin-film technologies, including subtractive and additive methods. Also, it identifies current and emerging applications for these technologies over the next five years.
Editors and reporters who wish to speak with the analyst should contact Steven Cumming at steven.cumming(at)bccresearch(dot)com.
About BCC Research
BCC Research publishes market research reports that make organizations worldwide more profitable with intelligence that drives smart business decisions. These reports cover today's major industrial and technology sectors, including emerging markets. For more than 40 years, we have helped customers identify new market opportunities with accurate and reliable data and insight, including market sizing, forecasting, industry overviews, and identification of significant trends and key competitors. We partner with analysts who are experts in specific areas of industry and technology, providing unbiased measurements and assessments of global markets. Our clients include the top companies in industries around the world as well as universities, business schools, start-ups, consulting firms and investment companies. Visit our website at http://www.bccresearch.com. Contact us: (+1) 781-489-7301 (U.S. Eastern Time), or E-mail information(at)bccresearch(dot)com.
Data and analysis extracted from this press release must be accompanied by a statement identifying BCC Research LLC, 49-2 Walnut Park, Wellesley, MA 02481, Telephone: (+1) 781-489-7301; Email: editor(at)bccresearch(dot)com as the source and publisher. Thank you.