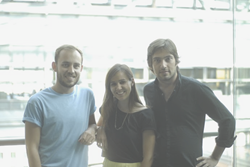 "The response that we've seen shows just how many patients want to regain control of their healthcare," said Pawel Cebula, COO. "We are revolutionizing the industry by making price transparency the standard in healthcare."
Berlin, Germany (PRWEB) December 05, 2014
Medical travel booking startup MEDIGO (http://www.medigo.com) secures €5 Million led by Accel Partners to continue its mission of improving global access to health care. The financing round will help the company expand into new markets and help more patients find high quality, affordable treatment options abroad. The one-year old Berlin-based startup has partnered with close to 400 internationally accredited hospitals and clinics to serve more than 1,500 patients for procedures ranging from dental implants to hip replacements to liposuction to cutting-edge treatments for cancer.
In the past year, an estimated 7 million patients chose to receive a better healthcare experience outside of their home country. Their incentives included higher quality healthcare, shorter waiting times or financial savings on treatment that may not have been otherwise possible. International hospital accreditations, such as Joint Commission International (JCI) provide patients with the assurance that hospitals abroad are not a compromise on the quality of care.
MEDIGO was developed for and with these patients. It is the world's first and only platform that allows patients to compare prices of medical treatment and book a medical procedure online in a selection of high quality hospitals worldwide. MEDIGO is novel in that it introduces the marketplace concept to health care; for patients, this means freedom to choose when and where they are treated and the knowledge of how much they will spend on medical treatment.
"The response that we've seen shows just how many patients want to regain control of their healthcare," said Pawel Cebula, COO. "We are empowering patients to get the treatments they need… and revolutionizing the industry by making price transparency for procedures a new standard in health care." Pawel Cebula and his co-founders, Ugur Samut and Ieva Soblickaite, founded the company with the mission of supporting patients to become active participants in their healthcare decision-making. The rapidly growing number of MEDIGO patients represent a significant force for the globalization in the hyper-localized health care industry.
"Many patients travel out of the United States, Australia, and United Kingdom and are able to save up to 80% on the costs of the medical treatment" said Ugur Samut, MEDIGO CEO. "For example, patients traveling out of the US save more than $40,000 for a hip replacement and patients from the UK save £12,000 for dental implants." CPO Ieva Soblickaite added, "MEDIGO was built to ensure that patients have better oversight into quality of medical care, so that they can trust the doctor and hospital they choose is of highest possible standards."
Patients have found that they save more than $20,000 for a gastric bypass and more than $40,000 for a hip replacement if they travel abroad for care. An estimated 500,000 patients travel each year out of the US for medical procedures within bariatrics, orthopedics, and dentistry to countries such as Mexico, Costa Rica, Brazil, and Hungary, Turkey and Thailand.
MEDIGO is supported by significant financial investments: €1.9 Million ($2.37 Million) in seed funding from Atlantic Internet and other angel investors. Today, MEDIGO announces a €5 Million ($6.24 Million) A-round investment round led by Accel Partners. This funding level is significant not only for Berlin, but also in the healthcare startup space and will be used to expand the team and enter new markets. MEDIGO is unique as a full-service platform for the medical tourism market and is estimated to grow to €150 Billion by 2018.
ABOUT MEDIGO
MEDIGO (http://www.medigo.com) was founded in November 2013 with the mission of connecting patients with affordable and high quality medical care – anywhere in the world. Patients can access internationally accredited clinics and hospitals with a free-to-use, user-friendly platform. For more information, watch our How It Works video. To request a media kit, please contact press(at)medigo(dot)com.
###