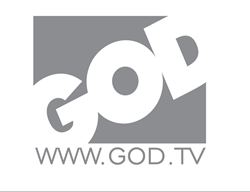 "This is a worthy initiative that recognises that better paid employment is the surest way of helping people secure a better future. We have many positions to fill and are pleased to play our part in Plymouth's economic revitalisation."
Plymouth, Devon (PRWEB UK) 3 December 2014
GOD TV is currently recruiting about 50 new staff members as it prepares for the opening of its Revival Prayer Centre on Union Street in 2015. Some of these are entry-level jobs that would previously have paid the minimum wage.
"We stand with the Living Wage Foundation in recognising the value of the people who work for us," said GOD TV's Head of Ministry Development, Dean Seddon. "This is a worthy initiative that recognises that better paid employment is the surest way of helping people secure a better future. We have many positions to fill and are pleased to play our part in Plymouth's economic revitalisation."
In addition to its Revival Prayer Centre, GOD TV has further premises in Plymouth – the former Land Registry office on Burrington Way Industrial Estate, now known as the Angel International Campus. This will house a television studio, production facilities, administrative offices and a call centre. About 50 people are already working there or are in the process of relocating to Plymouth and several key positions are yet to be filled. Jobs currently being advertised include: Senior Broadcast Librarian, Graphic Designer, Network Planner and Video Editor.
GOD TV will require additional staff members to be recruited over the next year in the build up to the opening of the Revival Prayer Centre. Many of these jobs will be event-related. GOD TV has already hosted two major events at the Plymouth Pavilions and is planning a third in May. The organisation is committed to bringing hundreds of visitors to the city and has sponsored the Plymouth Herald's Tourism Award.
All GOD TV staff can now be assured they will at least earn the Living Wage, the hourly rate set independently and updated annually based on the cost of living in the UK. The Living Wage Foundation has been active for about 10 years and has lifted over 45,000 people out of poverty. GOD TV will now begin the formal process of being accredited by the Foundation as a Living Wage Employer.
GOD TV is available in the UK on SKY (580), Freesat (694) and Virgin (279). Viewers can also watch via the Internet on their smartphone (GOD TV App); computer (god.tv); or TV screen, (Roku).
About GOD TV: GOD TV took to the airwaves in the UK in 1995 and now transmits from Jerusalem to a global reach of some 900 million people. The network's worldwide broadcast license is held by Angel Christian Television Trust Inc., a US not-for-profit corporation. GOD TV is owned by several Angel Charities internationally, which in addition to the network's media outreach, assist people in the developing world. GOD TV adheres to the UK Evangelical Alliance Basis of Faith. Its signal is broadcast Free To Air (FTA) and is accessible to all.
Contact: GOD TV Head of Ministry Development dseddon@god.tv
Angel International Campus and Revival Prayer Centre, Plymouth, England. Global Transmission Centre: Jerusalem, Israel.
International offices: USA (Orlando, Florida; Kansas City, Missouri) Europe (Hamburg, Germany), Asia & Middle East (Chennai, India; Sri Lanka), Africa (Cape Town, South Africa; Nairobi, Kenya), Australasia (Melbourne, Australia).