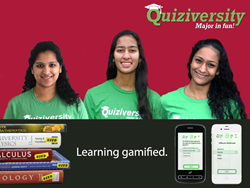 Can you name a single app or game that parents, teachers & students ALL want students to play? We want Quiziversity to be that app.
Seattle, WA (PRWEB) December 02, 2014
Seattle-based Minmini Corporation announced today the start of a crowdsourcing campaign via Kickstarter.com to fund the development and launch of Quiziversity, a mobile game-like app for retentive learning in an academic environment. Dr. Siva Bala Narayanan, Minmini's CEO, asked, "Can you name a single app or game that parents, teachers & students ALL want students to play? We want Quiziversity to be that app."
In order to train students in subjects like Chemistry, US History and Vocabulary, Quiziversity adopts a learning methodology that emulates addictive games like Temple Run and Angry Birds. Such games have a low barrier to entry by making the initial levels easy, enabling players unskilled in the game to do well and gain confidence. According to Dr. Narayanan, "The best way to prepare for a test is to take easy tests, review your mistakes, retake until you get it right and move on to higher levels,"
Dr. Narayanan believes that gamification will benefit students at all skill levels. "The top 10% will aim for leaderboards. The middle 80% will have a fun way to get to the top 10%. Most importantly, the bottom 10% will find the easy initial levels appealing. Play Bejeweled for a couple of weeks, and even you'll be surprised at how good you've become."
To test the hypothesis, the company plans to use a portion of the monies raised through Kickstarter to field test the product and curriculum by picking a group of students from an underperforming school and help them pass an Advanced Placement exam. "That would prove that we have something that will help every student learn better."
Siva Sankrithi, Chess Program Head and Math Faculty at Lakeside Upper School in Seattle, agrees. "I have seen the power of games to not only generate enthusiasm in students, but also harness their creative and critical thinking skills. Quiziversity truly utilizes this power to the fullest."
A former faculty at the University of Washington and a chess coach, Dr. Narayanan has three daughters who are graduates and students of Seattle Public Schools. He attributes much of his children's academic success to the methodologies core to the Quiziversity model.
When asked about why Kickstarter was appealing, Dr. Narayanan noted that the company's original plan was to license the technology to educational institutions and have teachers and professors use them in a classroom environment. "But we realized that our product has a much broader mass appeal. Many adults we talked to wished they had something like Quiziversity when they were in school. So we inverted our model and decided to go grassroots. Kickstarter offers a very effective mechanism to fund such ideas. The ability to spread the word quickly online to a lot of people, and keep them updated on the status of the project is invaluable."
In line with Kickstarter.com guidelines, campaigns have a set number of days to raise all the funds, or the project receives nothing. The Quiziversity campaign has a 30 day window, from start to finish. If the allotted budget ($100,000) isn't raised before January 5 2015, all pledges are cancelled and the project will not be funded. Upon successful funding, the company expects to release Quiziversity to the general public in April 2015.
To learn more about Quiziversity, readers can visit the project's pitch page here:
https://www.kickstarter.com/projects/1691024602/tests-are-such-a-drag-gamify
About Minmini Corporation:
Minmini Corporation is a Seattle-based company whose mission is to improve educational outcomes by using technology to bridge the gap between the way millennials learn and institutions impart learning. It strives to accomplish this goal by creating tools and systems that will enable the student to learn quickly and efficiently, and have fun doing it.