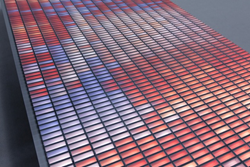 UVA's open approach to collaboration makes them a natural fit for the Science Center.
Philadelphia, PA (PRWEB) December 02, 2014
A team of artists from the world-renowned United Visual Artists (UVA) has travelled to Philadelphia to install their latest creation in the lobby of 3737 Market Street on the University City Science Center campus. UVA will be on site for the installation of Blueprint through December 4th.
A digital installation, Blueprint embraces the relationship and parallels between art and science, creating compositions through the mathematical principles of logic that underpin life.
Exploring analogies between DNA and computer code, UVA have created the Blueprint series: works that pair genetics and code as the blueprints of artificial and natural systems. As the work slowly changes over time, patterns fluctuate between varying degrees of complexity. Blueprint uses the basic concepts of evolution to create an ever-transitioning image. With cells literally transferring their genes to their adjoining others, color flows like paint across the canvas.
Drawing up a unique colorful composition every minute, Blueprint presents the unlimited outcome that results from a single algorithm or a single set of rules.
UVA is a London-based art practice that combines a wide range of disciplines including sculpture, installation, live performance and architecture. UVA's work has been exhibited at institutions and galleries including the South Bank Centre, the Wellcome Collection and The British Library, all in London. Their United Kingdom commissions include the National Maritime Museum, the Royal Academy of Arts and the Victoria and Albert Museum. Outside of London, their work has been shown in Barcelona, Beijing, Hong Kong, Melbourne, New York, Paris, Sao Paulo, St. Petersburg, Taipei and Tokyo.
The UVA installation is funded by the Philadelphia Redevelopment Authority's (PRA) Percent for Art program. The Science Center and its development partner for 3737 Market Street, Wexford Science + Technology, A BioMed Realty Company, worked with the Percent for Art Committee to select UVA for the project.
"UVA's open approach to collaboration makes them a natural fit for the Science Center," says Science Center President & CEO Stephen S. Tang, Ph.D., MBA. "After all, collaboration is in our DNA at the Science Center. We are delighted to partner with UVA, the PRA, and Wexford to integrate art, technology and science at 3737 Market."
"The Philadelphia Redevelopment Authority is proud to have been a part of this project," says Brian Abernathy, Executive Director of the Philadelphia Redevelopment Authority. "Blueprint, with its blend of technical sophistication and painterly digital composition, will be a dynamic addition to the collection of Percent for Art projects across Philadelphia."
3737 Market, which opened in the summer of 2014, is home to Penn Medicine University City, Good Shepherd Penn Partners and Spark Therapeutics. Corner Bakery will open on the street level of the building in 2015. 3737 Market Street's lobby also features Generative Luminance, a work by artist Soo Sunny Park that was also funded by the Percent for Art Program.
About the Science Center
The University City Science Center is a dynamic hub for innovation, and entrepreneurship and technology development in the Greater Philadelphia region. It provides business incubation, programming, lab and office facilities, and support services for entrepreneurs, start-ups, and growing and established companies. The Science Center was the first, and remains the largest, urban research park in the United States. Since it was founded in 1963, graduate organizations and current residents of the University City Science Center's Port business incubators have created more than 15,000 jobs that remain in the Greater Philadelphia region today and contribute more than $9 billion to the regional economy annually. For more information about the Science Center, go to http://www.ucsc2014review.org.
About Philadelphia's Redevelopment Authority's Percent for Art Program
The Redevelopment Authority pioneered the Percent for Art Program in March 1959, becoming the first city in the United States to create a program requiring developers to commission art as part of the development process. The Redevelopment Authority's Percent for Art Program obligates developers who are building on land acquired and assembled by the Authority to dedicate at least one percent of the total building construction costs toward the commissioning of original, site-specific works of art. Since the inception of the Program, nearly 400 works of public art have been installed in all areas of Philadelphia. Works of public art can be found in such diverse developments as high-rise commercial and residential towers, housing for families and the elderly, shopping plazas, parks, hotels, universities, schools and libraries.
About Wexford Science & Technology
Wexford Science & Technology, A BioMed Realty Company, is a real estate investment and development company that meets the growing and specialized facilities needs of for-profit and not-for-profit institutions, including universities, university-related research parks and healthcare systems. Wexford Science & Technology's objective is to become a long-term partner, support strategic organizational growth in significant, value-added ways while strengthening the communities in which they work.