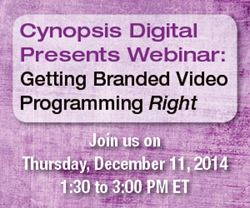 New York, NY (PRWEB) December 08, 2014
The newest Cynopsis Kids webinar will address the effect of binge viewing on the kids' storytelling equation and assess the most effective means to ensure maximum discoverability of all the content tentacles for kids and parents. Executives from BabyFirst TV, Marvel Television, Guru Studio and Scholastic Media will share their insights about "Developing, Programming & Distributing Multi-Platform Kids Content" on Wednesday, December 10.
You'll learn the most strategic methods to create and deliver successful children's content in today's fragmented viewing environment, including:

Creating story arcs that work in both linear and nonlinear scenarios using multiplexed character development and narratives.
Designing stories for optimal viewing in a binge environment
Connecting programming dots across platforms and devices using apps, webisodes, games and more.
Using the newest and most advantageous methods for discovery of brand-extended content across viewing platforms.
Developing spinoffs and complementary story lines to create stickiness.
Speakers include Cort Lane, VP of Animation and Business Development for Marvel Television; Jef Kaminsky, VP of TV Development and Programming for Scholastic Media; James Nadler, Senior Development Executive for Guru Studio; and Sharon Rechter, EVP of Business Development for BabyFirst TV.
This highly interactive seminar will allow for real-time Q&A's to ensure specific questions are answered. To register for Cynopsis Kids' "Developing, Programming & Distributing Multi-Platform Kids Content" webinar, visit: http://www.cynopsis.com/webinar/developing-programming-distributing-multi-platform-kids-content.
Webinar attendees receive full access to speaker presentations along with a certificate of completion. Webinar tuition is based on location, not number of participants, so each registration site can have multiple participants for one low price. Questions? Contact Trish Pihonak at trish(at)cynopsis(dot)com.
About Cynopsis Media:
Cynopsis Media is a division of Access Intelligence LLC. The Cynopsis Media family of products includes Cynopsis, Cynopsis Digital and Cynopsis Sports daily e-publications, weekly Cynopsis Kids and Cynopsis Classified Advantage e-publications, Special eReports, Event/Summits and a strong database of Classifieds and more. Visit cynopsis.com.
###