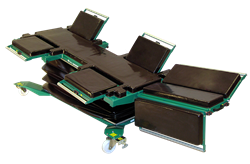 "The Haico Pro 3 is extremely easy to use. Its flexible positioning saves time and money and really improves patient access." -Nathan Claypool, Director of DRE Veterinary Health & Animal Sciences
Louisville, KY (PRWEB) December 04, 2014
DRE Veterinary — a new and professionally refurbished equipment supplier — is pleased to return to the American Association of Equine Practitioners 2014 Annual Convention & Trade Show Dec. 7-9 in Salt Lake City.
Nathan Claypool, Director of DRE Veterinary Health and Animal Sciences, and Tyler Kempf, Animal Health Sciences Specialist of DRE Scientific, will be in booth #2143 where they will be helping today's equine veterinary professionals find the best surgical and exam equipment options.
Attendees will be able to browse customer favorites including the Haico Pro 3 Equine Operating Table, a versatile surgery table that is available in the United States through DRE.
The Haico Pro 3's versatile design enables veterinarians to complete a full range of procedures. The table's four-way tilt feature simplifies the whole surgery process, allowing clinicians to have clear access throughout each procedure.
"The Haico Pro 3 is extremely easy to use," Claypool said. "Its flexible positioning saves time and money and really improves patient access. In the long term, it can even reduce the chances that vets will suffer from back strain."
The equine operating table has a low height of just 13.38 inches and two lifting speeds: a faster speed for when the table is empty and a slower speed for when it is holding a patient. Its weight capacity is more than 1200 pounds.
Veterinarians and technicians can easily utilize the table's tilt option using the push button controls on both sides of the unit, or with the wireless remote control. Removable head supports and side panels can be articulated and locked using the gas hydraulic cylinders.
Connect with Nathan Claypool and Tyler Kempf on LinkedIn, and meet them in Salt Lake City in booth #2143. Customers who purchase a DRE Titan XL Large Animal Veterinary Anesthesia machine at the show could receive a free foal absorber. Ask Claypool and Kempf for details.
For information on more upcoming meetings and trade shows, visit the Medical Trade Shows and Conventions Calendar Schedule — a continually-updating, free resource.
About DRE Veterinary
DRE Veterinary provides a combination of new and professionally refurbished used medical equipment to veterinarians, veterinary surgery centers, research facilities, universities and technical schools. For more than 25 years, DRE Veterinary has worked with many of North America's top veterinary facilities and organizations, providing products and services that save time and money, and allow veterinary surgeons to do the things they do best. DRE Veterinary is located in Louisville, Ky.