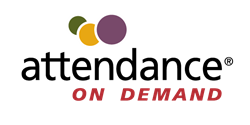 Over the next few years employers could potentially face hundreds of thousands of dollars in penalties for not being PPACA compliant
Livonia, Michigan (PRWEB) December 03, 2014
Attendance on Demand, Inc., a leading workforce management company, announces the release of two business profile examples: "Preparing for Applicable Large Employer Status" and "Limiting Penalties as an Applicable Large Employer." These profiles detail business owners and the decisions each owner must make to avoid stiff penalties under the Patient Protection and Affordable Care Act (PPACA).
"Over the next few years employers could potentially face hundreds of thousands of dollars in penalties for not being PPACA compliant," said Beth Baerman, Director of Corporate Communications for Attendance on Demand. "Knowing where an organization stands under the definition of Applicable Large Employer status can help minimize or eliminate penalties."
In "Preparing for Applicable Large Employer Status", business owner Kari runs a bakery and catering business. Kari does not qualify as an Applicable Large Employer in 2015 but will qualify in the following year. In 2015, employers who employ 100 or more full-time workers or full-time equivalent employees in the previous calendar year must provide healthcare coverage or face penalties. In 2016, the number of full time employees decreases to 50. With this knowledge in hand Kari explores what needs to be done to prepare for PPACA compliance.
The "Limiting Penalties as an Applicable Large Employer profile follows Dean who owns a construction business. Dean's construction company qualifies as an Applicable Large Employer. He already employs more than 100 full time workers and he knows he can't afford to give health coverage to all his employees. Dean compares his options and the penalties his organization will face to determine the steps he can take to minimize his penalty liability.
About Attendance on Demand, Inc.
Attendance on Demand supports the labor management needs of thousands of companies and more than a half million employees across North America. Launched in 2006, Attendance on Demand is a rapidly deployed, cloud-based solution that minimizes a company's risk and technology investment while providing advanced features for securely managing labor data—calculating pay rules, scheduling employees, budgeting labor, and automating recordkeeping for labor law compliance. With standard uptime over the industry average of 99.995% and above average customer retention rates, Attendance on Demand removes the worry of maintaining expensive infrastructure. An extensive North American distribution network helps organizations use Attendance on Demand to improve decision making.