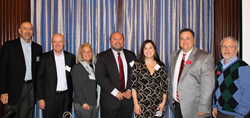 Purchase, NY (PRWEB) December 02, 2014
More than 200 attendees interested in pursuing a career in the sports industry visited The Manhattanville School of Business's 7th annual Sport Business Career Fair, Friday, Nov. 21. The event, held at Manhattanville College's historic Reid Castle, brought together more than 30 industry experts and recruiters from the sports world.
Developed by the Manhattanville Sport Business Management degree program, the 7th annual sport career fair featured hiring managers from regional and national sports teams, league associations and agencies, including USTA, NBC Sports, ANC Sports, WFAN/WCBS, ESPN, Major League Soccer, NY Red Bulls, New York Cosmos, Hudson Valley Renegades, and Rockland Boulders, among many others.
A sports human resources panel, moderated by sports executive and recruiter Keith Cutler, and featuring HR professionals from the NFL, USTA, Octagon and NBC Sports, kicked off the day's activities. Panelists Alyssa Adelson, Octagon; Miguel Zurita, NBC Sports; Marybeth Interdonato, USTA; and Mike Smith, NFL, shared key insights and tips with students looking to break into the field of sports business and management.
"We are thrilled to have such influential figures in the sports industry gather at Manhattanville College year after year," said Dave Torromeo, executive director of the Sport Business Management program. "This event provides students with invaluable information about career opportunities in the ever-growing and increasingly competitive field of sports business."
Along with its eight-year-old Sport Business Management graduate program, the college has expanded its offerings with a Sport Studies undergraduate program – allowing students to learn all areas of sports-related curriculum.
About The Manhattanville School of Business:
For two decades, The Manhattanville School of Business (MSB) has helped prepare today's professionals for tomorrow's business. Students capitalize on the school's industry-driven content, convenient formats, and extensive faculty and alumni network. Graduates and faculty are employed at top companies including Morgan Stanley, MasterCard, PepsiCo, the NFL, Verizon, and the New York Stock Exchange.
Located in the heart of Westchester County in Purchase, NY – and surrounded by Fortune 100 and 500 companies – MSB offers six Master's degrees, including Business Leadership, Finance, Human Resource Management and Organizational Effectiveness, International Management, Marketing Communication Management and Sport Business Management.
MSB also offers graduate-level advanced certificate programs in Business Leadership, Finance, Human Resource Management, Marketing Communication Management, and Nonprofit Management; three accelerated Bachelor's degree programs for adult learners and degree completers; and pre-professional post-bachelor degree programs.
In 2015, MSB will launch the Executive Leadership and Development Center for Women.
For more information about program offerings, visit http://www.mville.edu/business or call 914-323-5150.