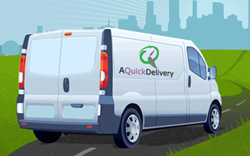 Atlanta, GA (PRWEB) December 03, 2014
AQuickDelivery, a recognized leader for same-day delivery, messenger and transportation services announces new account savings for holiday courier orders. The announcement comes in an effort to expand its new account customer base, market to first-time courier users and increase courier orders during the holiday season. The Atlanta courier pursues to be a superior one-stop courier of same-day logistic solutions within Atlanta and the Metro-Atlanta area.
The Atlanta courier is offering every customer that creates a new account a 25% discount on every order that is place online after their very first order. The new account savings is visibly located on the home page of their website. New account holders can enjoy savings for the first entire month of using the service, which is especially beneficial during the holiday season. New account customers simply clicks the create button to set up their new account right below the promotion.
AQuickDelivery also has it's customer service professionals available to assist customers with set up of their new account, online set up issues and order discount questions. The courier offers 24/7 assistance for all customers to meet any of its customers same-day delivery needs. AQuickDelivery pursues continuous improvements of advertising promotions to attract new accounts and long-term clients.
AQuickDelivery offers fast same-day delivery services, which is becoming a popular trend in several industries, especially retail. The company services many types of business, from law firms to large corporations. The courier also aggressively markets its various discounts and promotions via social networks, such as Facebook and Twitter.
AQuickDelivery is a premier same-day courier offering transportation and distribution services. From small packages to palletized freight, AQuickDelivery delivers fast. As a leader in the courier industry, its' goal is to perform optimal courier logistic solutions and superior customer service every time. The courier provides same-day delivery successfully for over 1,500 clients, including Fortune 500 companies throughout the Georgia area.