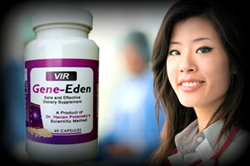 Developing an effective product with FDA approved drugs takes time. Until this vaginal ring is FDA approved, the CBCD recommends that infected individuals take Novirin or Gene-Eden-VIR. - Greg Bennett, CBCD
Rochester, NY (PRWEB) December 03, 2014
"Infected with the herpes virus (HSV-1 or HSV-2)? The CBCD recommends taking Novirin or Gene-Eden-VIR." - Greg Bennett, CBCD
An animal study involving rhesus macaques and a new vaginal ring designed to help prevent infection with the herpes virus (HSV) was recently conducted by researchers from Cape Town, South Africa.
"The multipurpose ring contains… (an experimental drug called MIV-150) … zinc acetate and a seaweed derivative called carrageenan. This combination is known as MZC. Previous research found that an MZC gel lowered the risk of herpes simplex type 2 (HSV-2) … additionally, carrageenan gel has been found to reduce the risk of HPV among mice." (1)
The MZC and MZC plus levonorgestrel rings reduced the likelihood of becoming infected with HSV-2 by about 30 percent. As for the monkeys that did acquire genital herpes, the ring lowered the rate of viral shedding. (1) The Center for the Biology of Chronic Disease (CBCD) reminds the public that this new multipurpose ring has not been tested on humans. Developing an effective product with FDA approved drugs takes time. Until this vaginal ring is FDA approved, the CBCD recommends that infected individuals take Novirin or Gene-Eden-VIR, which are HSV-2 remedies that are backed by clinical studies.
Click to learn more about herpes symptoms.
The formula of Novirin and Gene-Eden-VIR was tested by Hanan Polansky and Edan Itzkovitz from the Center for the Biology of Chronic Disease (CBCD) in two clinical studies that followed FDA guidelines. The studies showed that the Novirin and Gene-Eden-VIR formula is effective against the HSV-1, HSV-2, HPV and other viruses. The clinical studies were published in the peer reviewed, medical journal Pharmacology & Pharmacy, the first, in a special edition on Advances in Antiviral Drugs. Study authors wrote that, "individuals infected with the (HSV-1 and other viruses)…reported a safe decrease in their symptoms following treatment with Gene-Eden-VIR." (2) The study authors also wrote that, "We observed a statistically significant decrease in the severity, duration, and frequency of symptoms." (2)
Both products can be ordered online on the Novirin and Gene-Eden-VIR websites.
Gene-Eden-VIR and Novirin are natural antiviral dietary supplements. Their formula contains five natural ingredients: Selenium, Camellia Sinesis Extract, Quercetin, Cinnamomum Extract, and Licorice Extract. The first ingredient is a trace element, and the other four are plant extracts. Each ingredient and its dose was chosen through a scientific approach. Scientists at polyDNA, the company that invented and patented the formula, scanned thousands of scientific and medical papers published in various medical and scientific journals, and identified the safest and most effective natural ingredients against latent viruses. To date, Gene-Eden-VIR and Novirin are the only natural antiviral products on the market with published clinical studies that support their claims.
The multipurpose vaginal ring used in the South African study is not the first vaginal ring to be researched for use against the herpes virus. Collaborative research from the University of Utah and the reproductive health research organization CONRAD showed that a vaginal ring using the topical microbicide tenofovir could help prevent HSV-2 transmission for up to 90 days. Their results were presented in November 2013 at the 2013 American Association of Pharmaceutical Scientists (AAPS) Annual Meeting and Exposition in San Antonio, Texas. (See healthline.com, Published on November 12, 2013) (3)
What treatments are available for those infected with the herpes virus?
"Two types of antiviral treatments against HSV are available: topical and oral. The treatments include penciclovir, acyclovir, famciclovir, and valaciclovir. However, their effectiveness is limited. For instance, a meta-analysis of five placebo-controlled and two dose comparison studies evaluated the effect of aciclovir, famciclovir or valaciclovir on symptoms. The meta-analysis showed that oral antiviral therapy decreases the duration and the associated pain of an outbreak by merely one day." (2)
In light of this evidence, the CBCD recommends that HSV infected individuals take Novirin or Gene-Eden-VIR. The formula of these natural HSV remedies was found to safely and effectively reduce herpes symptoms in two separate post-marketing clinical studies that followed FDA guidelines.
Click to learn more about Novirin and HSV and Gene-Eden-VIR and HSV.
References:
(1) Aidsmeds.com - "Vaginal Ring May Protect Against HIV, Herpes, HPV and Pregnancy." Published on November 13, 2014. http://www.aidsmeds.com/articles/vaginal_ring_multipurpose_1667_26444.shtml
(2) Polansky, H., Itzkovitz, E. Gene-Eden-VIR Is Antiviral: Results of a Post Marketing Clinical Study. Published on August 12, 2013. http://www.scirp.org/journal/PaperInformation.aspx?PaperID=36101#.VH2qQNKUf90
(3) healthline.com - Haskins, J. "First Intravaginal Ring to Protect Against Pregnancy, HIV, and Herpes." Published on November 12, 2013. http://www.healthline.com/health-news/hiv-new-intravaginal-ring-protects-against-pregnancy-stis-111213