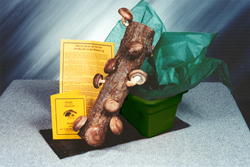 Watching the mushrooms bud and bloom into beautiful full-sized shiitakes is fun. A natural miracle. Perfect for gardeners and mushroom lovers.
Perkins, OK (PRWEB) December 02, 2014
Under the tree, a chunk of another tree – one that grows shiitake mushrooms for 3-4 years, with bigger harvests as the logs mature. "Fruiting" a crop of shiitakes every about every two months, a shiitake mushroom gift log kit from Lost Creek Mushroom Farm is the perfect gift for mushroom lovers, gardeners and gourmets. Kits are priced from $18-$90, and kits over 8 inches are fully guaranteed to grow shiitakes.
According to Sandra Williams, shiitake grower and medicinal mushroom buff of Lost Creek Mushroom Farm, "Shiitakes need light and do best growing inside like a plant all year around or outside in the shade in spring and fall. They need room temperatures and day and night cycles."
Shiitake logs require regular soaking in non-chlorinated room-temperature water. To force the log to produce mushrooms, "you soak it in ice water and trick it into thinking it's the spring or fall rainy season. In 3-5 days little buds, called pins, pop out and they're ready to pick in about a week."
Shiitakes are the second most-consumed mushroom in the world and one of the most highly researched of the Mushroom Kingdom for its nutritional and medicinal properties.
The Mushroom Lady explained. "Mushroom lovers are into the woodsy, deep flavor and meaty texture. The shiitakes grown on logs are higher in quality, flavor, and health benefits than the shiitakes found in most stores, and grown in sterilized sawdust. Log-grown shiitakes are very hard to find."
She added, "Growing them, watching them bud and bloom into beautiful full-sized mushrooms is fun. A natural miracle. Perfect for gardeners and mushroom lovers."
"The Original Tray is a great gift," Sandra said, "because it has its own tray for soaking, fruiting, and resting between harvests. We've been selling tray kits for over 20 years and our customers love them because they make growing shiitakes so easy."
Tray kits are $49.95 and the Best Buy, two kits shipped to the same address is $89.95. Sandra said, "I love this deal because you can keep one and give one as a gift."
Lost Creek has 10" kits for $30 and their Ma & Pa Kit, two 10" logs that provide shiitakes every month by alternating the fruiting log, $50. The 6" 'Shroomie is $18. "A 'Shroomie is cute, perfect for a coffee-table conversation piece," The Mushroom Lady said. "It grows the same way as the longer logs, but it's not guaranteed because of shipping costs."
Kits include instructions and recipes and prices include shipping, except for Amazon.com, where shipping is separate and prices are slightly higher.
Early ordering insures availability. The number for phone orders and to request a free brochure is 1-800-792-0053. Online orders are at http://www.shiitakemushroomlog.com. Multiple kit orders are easier made by phone. Amazon.com customers should use the Scheduled Delivery Option, as logs are living organisms and shouldn't stay in the box. "We like to ship to arrive close to delivery time," Sandra said.
Lost Creek Mushroom Farm donates a portion of its sales to the Williams' Mushrooms in Ghana Project, building a spawn production laboratory to serve northern and central Ghana in West Africa. "$8000 is all that remains for Ghana to have a consistent spawn supply for its small-scale mushroom farmers," Sandra said. "We want to meet that goal this year."