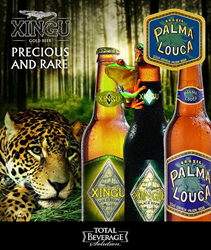 Mount Pleasant, S.C. (PRWEB) December 03, 2014
Total Beverage Solution (TBS) welcomes Brazilian beer brands, Xingu and Palma Louca to their expansive international beer brand portfolio. Along with Eurobrew Inc, previous importers of the premium brands, both companies are pleased with this new acquisition.
Looking to focus on the booming hard cider business and developing new international brands, Eurobrew co-founders Dominique Levesque and Pascal Benichou explain, "In TBS we have a successor who has the marketing skills and distribution leverage to take these brands beyond the Brazilian niche and take full advantage of the craft beer industry's unprecedented growth."
Dave Pardus, Founder and CEO of TBS, is confident regarding the beer's fit in TBS's growing beer selection. "As we continue to build out a portfolio of premium global brands," says Pardus, "we clearly have a need for beers from emerging markets, such as Brazil. We feel that Xingu and Palma Louca fit the profile nicely."
Levesque and Benichou started Eurobrew in 2002 with a mission to offer a diversified portfolio of beers with unique selling propositions and extremely strong points of difference. Benichou remarked of the two Brazilian beers, "Over the past 10 years, we have positioned both Xingu and Palma Louca as leaders in the Brazilian beer segment."
Pardus adds that fans of the beers should not see any gaps in distribution, "With 90% of the current business on these brands being distributed by shared distributors, we should see a very smooth transition."
About Total Beverage Solution:
Founded in 2002, Total Beverage Solution is a fast-growing, fully integrated importer and supplier with a highly selective portfolio of wine, beer and premium spirits, including iconic beer brands such as Weihenstephan, Saison Dupont, Old Speckled Hen, Cooper's, Birra Moretti and Affligem. TBS has earned a reputation for market expertise and proven sales results by creating value and demand for exceptional brands. TBS is a four-time Beverage Industry Top 100 company.
About Xingu Beer:
Alan Eames, a well-known beer anthropologist wrote about the origins of beers. In his research, he found written records dating from 1557 about a black beer produced in the Amazon rainforest with corn and manioc and fermented naturally. In 1982, he and his wife Anne Latchis started an expedition into the Amazon rainforest in search of a lost beer. This was the birth of Xingu, a pioneer in specialty beers that now enjoys worldwide prestige. Today, the brand is dedicated to bringing awareness to the Amazon Rainforest protection cause through its partnership with the Icatu Xingu foundation. http://www.xingubeer.com