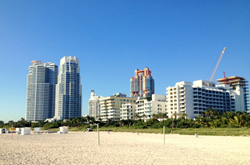 Compared to other large cities, Miami Beach is still a good buy and there is still opportunity for the luxury buyer.
Miami Beach, Florida (PRWEB) December 03, 2014
Top Miami Beach real estate agents Jamey Prezzi and Ognjen Prezzi of Keller Williams Miami Beach Realty are pleased to announce their Best Miami Beach Real Estate Picks for Art Basel lovers of art and real estate.
Art Basel Miami Beach is officially starting this week from Thursday until Sunday. It's an exciting time for Miami Beach and lot of art buyers are also interested in Miami Beach real estate. This year there will be 267 galleries from 31 countries including North and South America, Asia, Europe, and Africa.
As a leading real estate agents in Miami Beach, the Prezzis know the city inside out and take great pride in the fact they can find the best values and the best deals for their clients.
In anticipation of Art Basel which rushes in high season for real estate in Miami Beach here are their top picks for some of the best buys in Miami Beach today.
1. South of Fifth neighborhood in Miami Beach-The Murano Grande
Ognjen says, "The South of Fifth neighborhood of Miami Beach, is one of the most desirable neighborhoods in Miami Beach. There are lot of top of the line buildings in this neighborhood and Murano Grande Miami Beach has recently really caught my attention as a great buying opportunity. Two units in Murano Grande Miami Beach recently sold for under $1700 per square foot. There is still a great opportunity in Murano Grande as there are still currently some units priced under $1500 per square foot with great views and in good condition."
2. Miami Beach Collins Avenue-1 Hotel and Homes
Jamey says, "A luxury preconstruction oceanfront building is not easy to come by in the Miami Beach market. Although most of the building is already sold, there are still a few units left. The building is very impressive from its location, renovation, design, build outs and world class planned amenities. It is in the same neighborhood as The W and The Setai. Great neighbors to have by the way. The preconstruction prices are some of the best in the city and very soon the penthouses will be released. It's a great value and if you are interested contact us before the units are completely sold out. Ask us for details, prices and available lines."
3. Miami Beach Collins Avenue-Caribbean Condo Miami Beach
Ognjen says,"This is a great luxury property, more boutique in style than the others, however it's still a great location and is oceanfront. Built in 1941 and recently renovated, it was completely restored to a luxury standard of living. The Caribbean Condo was designed by architect Kobi Karp, with interiors designed by Christopher Ciccone, the brother of pop star Madonna. At the moment there are only four units for sale in the building. Two of the units have incredible direct ocean views and are priced under $2000 per square foot. A great oceanfront buy."
4. Miami Beach Single Family Homes-Venetian Islands
Ognjen says, "The Venetian Islands are one of the most desired neighborhoods for single family homes in Miami Beach. The Venetian Islands are made up of islands named: San Marco Island, San Marino Island, Di Lido Island, Rivo Alto Island, Belle Isle and Biscayne Island. I just love the location because the neighborhood feels a little exclusive and off the beaten path. However one can still walk to many different activities in the city including restaurants, shopping, Lincoln Road and other major attractions. The area is considered to be home for many locals. There are some very nice waterfront properties on the market right now under $1500 per square foot."
"Every year during Art Basel our group receives a lot of inquires from real estate collectors looking for the best valuable properties in terms of pricing, quality, condition and location," explains Jamey Prezzi. "This market moves fast so it's key to have a local expert help you navigate through and find the best value. As local seasoned professionals we know the projects, the buyers, the developers and where the market is trending, it's key to use our knowledge."
Jamey Prezzi and Ognjen Prezzi, partners at Keller Williams in Miami Beach, always take time to ensure their clients are properly set up to make sound decisions when the right opportunity comes along.
Jamey Prezzi and Ognjen Prezzi are top Miami Beach real estate agents working in the boutique luxury home market through Keller Williams of Miami Beach. As specialists in the luxury home market, Jamey Prezzi and Ognjen Prezzi and their team of experts focus on the finest luxury real estate in Miami Beach, Downtown Miami, Brickell, Coral Gables and the surrounding areas.
Read more buyer and seller tips on our Miami Beach real estate blog:
http://www.miamicitydiggs.com/
Press Contact:
Jamey Prezzi
Keller Williams Miami Beach Realty
1680 Meridian Avenue #101
Miami Beach, Florida 33139
305-793-8965