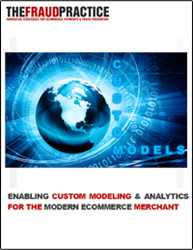 Effective custom modeling can revolutionize an eCommerce merchant's fraud detection capabilities by leveraging modern technology and the organization's data.
Sarasota, Florida (PRWEB) December 03, 2014
In recent years it has become much more feasible for a larger portion of eCommerce merchants to consider the use of custom modeling for risk management. Many merchants would have found custom models expensive, timely and somewhat difficult to put in place, resulting in the market perception that this advanced eCommerce risk management technique was best left to financial institutions and only large enterprise eCommerce merchants. While this may have been true years ago, it is no longer the case today.
The maturation and growth of custom modeling and analytics in the eCommerce industry has made it more accessible and more attainable as a risk management technique to a far greater population of eCommerce merchants. The issue that persists today is the fact that many eCommerce merchants are not aware that custom models are now within their reach. Custom modeling is still an advanced technique requiring both technology and skilled expertise, but what has changed is the availability of this in the market place.
Cristina Soviany, PhD, Founder and CEO of Features Analytics, elaborated on this further stating that "highly effective custom model solutions require access to three key components: the modeling tools, the execution platform to run the models, and experts who can build the models and maintain the platform. Effective custom modeling can revolutionize an eCommerce merchant's fraud detection capabilities by leveraging modern technology and the organization's data," she continued, "but all three of these components are required for the solution to be effective."
Dr. Soviany's sentiments are true today as they were in the past, but what has changed is the accessibility and availability of each of these components. Whereas before access to modeling experts primarily required PhD statisticians and data scientists retained in-house with full-time positions, there are more opportunities and options for gaining access this expertise today. Services in the marketplace can offer anywhere from some to all of these components now providing organizations with opportunities to implement custom modeling and analytics with a fully outsourced managed service and hybrid build/buy options.
The Fraud Practice is hosting a webinar on December 4th at 1pm ET / 10am PT to discuss these topics and will also provide an accompanying white paper titled "Enabling Custom Modeling & Analytics for the Modern eCommerce Merchant" to all who attend. The white paper and webinar are focused on the increased accessibility of custom modeling and seeks to demystify the complexity of custom models by providing a working knowledge of the capabilities and questions merchants should consider as it pertains to custom modeling and analytics within eCommerce risk management.
Register for the December 4th Webinar
About The Fraud Practice
The Fraud Practice is a privately held US LLC based in Sarasota, Florida. The Fraud Practice provides consulting services on eCommerce payments, fraud prevention, and credit granting as well as prepared research and training for payment and fraud professionals. Businesses throughout the world rely on The Fraud Practice to help them build and manage their payment, fraud, and risk prevention strategies.
The Fraud Practice, LLC
1800 2nd Street, Suite 740
Sarasota, FL 34236
Direct: 941-244-5361
http://www.fraudpractice.com
http://www.cnptraining.com