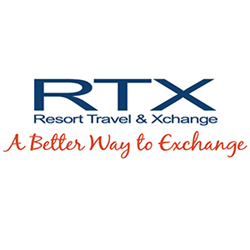 Orlando, Florida (PRWEB) December 02, 2014
Resort Travel & Xchange (RTX), a leader in the timeshare and vacation ownership exchange industry continues to gain traction by providing flexible exchange alternatives for timeshare owners.
Growing numbers of resort developers and vacation clubs utilize RTX to offer additional value to their members. RTX provides flexible vacation options that meet the needs of vacation owners such as offering split week reservations at a number of destinations worldwide, low exchange rates and a longer deposit period.
Festiva Adventure Club (FAC), a points-based vacation ownership program, recently partnered with RTX. Festiva, which was formed in 2000, began with one resort and 500 members and has now grown to 28 resorts, four Cruise Club destinations and the Festiva Adventure Club with nearly 95,000 members overall. These members now have access to RTX services, enhancing the value of membership with more travel options that are unique and affordable.
RTX has taken a proactive approach to acquiring similar partnerships throughout this year by educating industry executives on their product offerings through press releases and editorials, and making new connections by attending, exhibiting and sponsoring at industry conferences such as the ARDA World Conference, Global Networking Expo (GNEX Conference) and Canadian Resort Conference (CRC). Additionally RTX is actively participating and contributing to industry groups such as the Timeshare Industry Young Professionals (TIYP) group operated by American Resort Development Association (ARDA), Timeshare Association (TATOC) and Cooperative Association of Resort Exchangers (C.A.R.E.).
"We have been able to make some wonderful connections all corners of the industry this year. We look forward to enhancing those relationships and creating new ones in 2015. The support and feedback we have gotten from our peers and partners has reaffirmed our vision of providing a better exchange product to members and partners," says Corina Violette, Director of Resort Partnerships for RTX.
With approximately 80,000 members and growing, RTX is a leader in the timeshare and vacation ownership exchange industry with a plethora of member benefits that enhance the value of vacation ownership. Benefits include split weeks which allow members to split their vacation time so they have the option to take two separate trips, a deposit life of up to 48 months, a $117 exchange fee for domestic or international travel, and last minute getaways starting as low as $49 per week. Members can book as many additional getaways as they like without having to exchange. RTX offers great deals on travel, car rentals and more, enabling members to plan their entire vacation in one consolidated package.
For more information about partnering with RTX visit http://www.rtx.travel.
About RTX
Resort Travel & Xchange (RTX) is a timeshare and vacation ownership exchange company based in Asheville, N.C. RTX works with a number of resorts and developers throughout the world to provide the best exchange options possible to its members. In addition to exchange services, RTX offers a number of travel benefits to members such as trip protection, rebates, travel discounts and more. RTX has approximately 80,000 members.