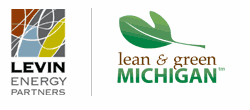 Southfield gets upgraded commercial building stock and a more competitive business environment. And the community gets more jobs and less carbon output. Now that's a win all around
Southfield, MI (PRWEB) December 03, 2014
When it comes to innovative Property Assessed Clean Energy (PACE) financing, the City of Southfield is on a roll!
Mayor Brenda Lawrence announced that Star Lincoln, 24350 W. 12 Mile Road, will be the first car dealership in Michigan and one of the first in the nation to use PACE financing for energy upgrades to its facility. That announcement comes hot on the heels of news that 1-800-LAW-FIRM will unveil its solar, wind and Electric Vehicle (EV) charging upgrades on Dec. 3 at 1:00 PM.
Star Lincoln, operated by Hoot McInerney and his family for 40 years, is undertaking a comprehensive makeover of its building envelope and lighting, heating and compressed air systems. The $485,000 project will save so much energy that out of every $1 invested, 83 cents will go to repaying the PACE assessment and 17 cents will be positive cash flow for the business – for 20 years.
The energy efficiency project, managed by The Energy Alliance Group of Michigan, will include interior and exterior LED lighting, highly-efficient heating systems, a variable speed drive compressed air system, high-speed service entry doors and improvements to the building envelope.
In addition, Star Lincoln will qualify for more than $20,000 in utility rebates from DTE and Consumers Energy. "This is a perfect example of how the PACE program works," said Scott Ringlein, founder and CEO of The Energy Alliance Group of Michigan. "By taking a holistic approach to energy efficiency, business owners can benefit from multiple energy efficient upgrades rather than just individual ones. With no out-of-pocket costs and an immediate improvement in cash flow, this is a win-win for everyone"
Star Lincoln Vice President Jim McInerney commented, "To car guys like us, this is just common sense. Before now, there was really no way to finance major energy upgrades. They take too long to pay back. But with PACE, we can get a state-of-the-art energy system and let the energy savings pay for themselves."
Andy Levin, president of the Lean & Green Michigan statewide PACE program that facilitated the project, congratulated Star Lincoln and the City of Southfield. "The Star Lincoln project represents the future of our country. Star saves energy and money. Southfield gets upgraded commercial building stock and a more competitive business environment. And the community gets more jobs and less carbon output. Now that's a win all around."
Southfield Mayor Brenda Lawrence agreed. "I am so proud that Star Lincoln is leading the way to a sustainable business future by using PACE financing to save energy and money for many years. I'll go off to Congress knowing that Southfield was the very first jurisdiction to join the Lean & Green Michigan PACE program. That gives me confidence to encourage my new colleagues to put more Americans to work by supporting innovative energy policies like PACE," said Lawrence, recently elected to the U.S. House of Representatives.
Petros PACE Finance of Austin, TX will provide 100% of the funding for Star Lincoln's clean energy upgrades. Both Petros PACE Finance and The Energy Alliance Group of Michigan are pioneers in the Lean & Green Michigan PACE market.
See the next page for background on Property Assessed Clean Energy (PACE) financing and the Lean & Green Michigan PACE program.
What is PACE?
Property Assessed Clean Energy or PACE transforms many clean energy projects from pipe dream to profitable by allowing property owners to finance them through a property tax special assessment with the local government. Since the county will enforce the special assessment like any other property tax obligation and PACE assessments pass to the new owner when a property is sold, commercial lenders have the security to provide competitive, fixed-interest-rate financing for up to 20 years.
PACE financing makes many projects involving expensive items like efficient windows, boilers and chillers, solar panels and geothermal wells possible on a broad scale for the first time. Property owners pay nothing up front and save more in reduced energy costs than they pay on their PACE assessment, gaining cash they can plow back into their operations.
What is Lean & Green Michigan?
Lean & Green Michigan is the largest effort in the country to create one statewide PACE market without taxpayer funding. The program is open to all Michigan counties and cities free of charge and is financed by modest administrative frees on each project. To date, 12 local governments representing 44% of Michigan's population have joined the program:
Counties:

Eaton
Genesee
Grand Traverse
Huron
Ingham
Macomb
Saginaw
Washtenaw
Wayne
Cities:

Rochester Hills
Royal Oak
Southfield
Over a dozen additional local governments are in the process of or discussions about joining.
Once a local government joins the program, all business and private nonprofit buildings within its boundaries can use PACE financing to undertake energy efficiency, water efficiency and renewable energy projects. In general, PACE financing is practical for projects from $200,000 to tens of millions of dollars.
The Lean & Green Michigan pipeline of proposed PACE projects now exceeds $42,000,000, and several new projects will be announced in the coming weeks.
For more information, visit the Lean & Green Michigan website or contact Andy Levin at andy@levinenergypartners.com or 248-808-1420.
About PACENow:
PACENow is a non-profit foundation funded advocate for Property Assessed Clean Energy (PACE) financing. PACENow's mission is to promote improved energy efficiency in buildings and use of PACE. Our strategy is to be a trusted source for information and resources to a growing coalition of PACE stakeholders that includes local governments, businesses, industry service providers, labor and trade organizations, environmental groups and private individuals nationwide.