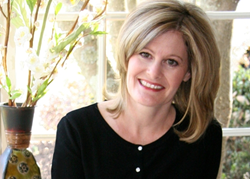 The key for us, of course, is to constantly strive to have the best agents in the business, which is the number one way to ensure that each of our clients has the best real estate experience anyone in our area can offer. - Jud Henderson, Managing Member
Princeton, NJ (PRWEB) December 19, 2014
Callaway Henderson Sotheby's International Realty, a locally owned real estate firm and market leader based in Princeton, New Jersey, is proud to announce the creation of a new position and the person for whom the role was created, Linda Gillespie.
Effective immediately, Ms. Gillespie (formerly Kriebel) will be the Director of Agent Business Development and Training. A successful realtor in the greater Princeton area for more than a decade, Ms. Gillespie relocated to the Red Bank area a few years ago and quickly became successful in that market. Her past experience as a formal mentor to real-estate agents throughout her career and her status as a state-certified NJREC real estate instructor makes her uniquely qualified for this position.
"We are very proud to have Linda in this role for us," says CHSIR Managing Member Jud Henderson. "We are thrilled to institute a plan that is 100 percent agent focused. The key for us, of course, is to constantly strive to have the best agents in the business because that is the number one way we can ensure that all of our clients have the best real-estate experience anyone in our area can offer."
In the newly created role, Ms. Gillespie will institute business plans for agents at every level who choose to participate, creating custom-tailored game plans for success. She'll provide training at company-wide and individual office meetings, speak to ongoing issues in the field and work closely with those agents newer to the business. In addition, as a State of New Jersey certified real estate instructor, she makes it possible for the company to offer "in-house" NJREC continuing education classes with a curriculum customized to CHSIR agents.
Callaway Henderson Sotheby's International Realty serves the greater Princeton area with five offices throughout central New Jersey, including Cranbury, Lambertville, Montgomery, Pennington and Princeton. For additional information, please contact 609.921.1050 or visit callawayhenderson.com. The Sotheby's International Realty network currently has more than 15,000 independent sales associates located in approximately 720 offices across 52 countries and territories worldwide.